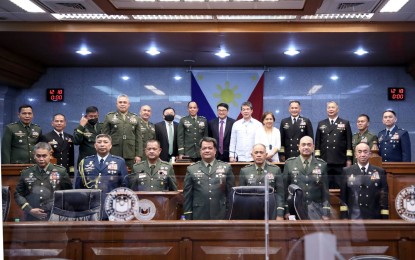 MANILA – The Commission on Appointments (CA) and the Senate Committee on National Defense commended on Monday the performance of the Armed Forces of the Philippines (AFP) in the May 9 presidential elections during the deliberation on the ad-interim appointments of 17 senior officers.
Senator Ramon Revilla Jr. attributed the success of the national elections to the security measures that the AFP, as well as the Philippine National Police, have implemented which led to high voter turnout and fewer election-related incidents.
"Their tireless service and their dedication are to thank for, for the success of this very important democratic exercise," Revilla said during the deliberations.
Senator Christopher "Bong" Go said all 17 deserve to be promoted.
"Ang kanila pong pagsasakripisyo at katapatan para sa bayan, lalo na po sa panahon ng pandemya, ay walang katulad. Hindi po sila tumitigil sa pagseserbisyo para sa kapwa nating Pilipino kahit na buhay nila ang nakataya (Their sacrifice and dedication to the country, especially during the pandemic, is incomparable. They did not stop serving our fellow Filipinos, putting even their lives at stake)," Go said.
Senator Ronald Dela Rosa vouched for the performance of the appointees, led by AFP Deputy Chief-of-Staff, Vice Admiral Anthony Reyes, saying they have not only been diligently performing their combat functions to ensure the peace and order but were also involved in initiatives in the grassroots level.
"I am the living witness to the efforts they had done in the communities they were assigned, whether in combat or in community building. I personally empathize with them," dela Rosa said.
Meanwhile, Senator Panfilo Lacson asked the appointees about the information he received that there were some officers who are having morale issues following the enactment of Republic Act (RA) 11709 that sets a fixed three-year term for the chief of staff; vice chief of staff; deputy chief of staff; commanding generals of the Army, Air Force and Navy; and chiefs of unified commands and the inspector-general even they will be 56 years old within their terms or "unless sooner terminated by the President".
Previously, military officials must retire from the service upon reaching the age of 56, regardless of how short they have been in their posts.
"I have no doubt that this (RA 11709) will contribute to the accomplishment of the overall mission of the AFP. But there is another concern, which is the welfare of the men, particularly the morale of some officers in the AFP. I would like to get some inputs on the extent of morale problems involving certain classes," said Lacson, one of the authors of the law.
Reyes admitted that there were some sectors in the officer and enlisted personnel corps that would be affected by the law but assured that the AFP, together with the Department of National Defense, would try to clarify some sections in the RA in crafting the implementing rules and regulations.
"Nevertheless, we really welcome this change and this will make the personnel of the armed forces more competitive in their respective fields so we will have a more effective and more robust organization," Reyes said. (PNA)