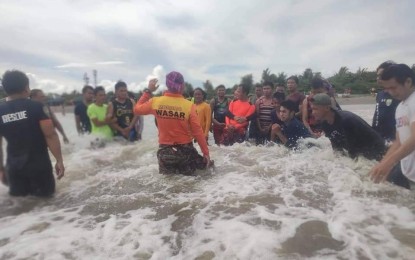 ILOILO CITY – Thirty responders from the municipality of Calinog in Iloilo have passed the training on water search and rescue (WASAR) to prepare for the opening of the Jalaur River Multi-purpose Project II (JRMP II) and major floodings.
Municipal Disaster Risk Reduction and Management (MDRRM) Officer Rodolfo Valencia on Tuesday said the dam, which is being constructed in their municipality, is expected to submerge a portion of around six or seven barangays of Calinog once the water will be stocked in the reservoir.
The JRMP II is expected to be completed in December 2023 and will start operations by 2024.
Data from the National Irrigation Administration (NIA), the implementer of the dam project, showed that the 109-meter dam reservoir can store an estimated 250.70 million cubic meters of water.
"We did advance training as preparation so that once the dam opens we will be able to respond to any untoward incident," he said in an interview on Monday.
Almost 50 underwent the WASAR held May 27 to 29, 2022 but around 30 responders passed since part of the skills that they need is swimming or water survival. Those who did not pass will have to undergo another training next year.
Valencia added that the learning will also be cascaded to responders in barangays situated adjacent to the town's major rivers to also improve their capability aside from their previous training on basic life support.
Over 30 of Calinog's 59 barangays are situated near the Jalaur and Alibunan rivers.
"Although we have no ocean, but the Jalaur and Alibunan rivers have huge (volume of water), Valencia said.
The WASAR training covered lectures and simulation exercise conducted by the Oton Search and Rescue Team in a resort in Oton, Iloilo.
Since WASAR is a ladderized training, they are eyeing to have the next exercise next year at the Moroboro Dam in Dingle, Iloilo, or any venue with deep water for the swift water rescue and river cruising, among others. (PNA)