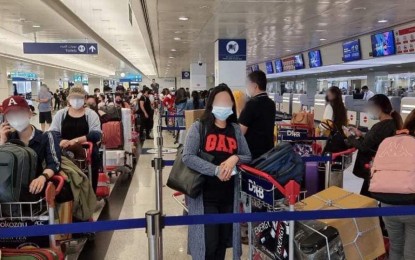 MANILA – The House of Representatives on Monday approved on final reading the measure seeking to expand the coverage of compulsory insurance for overseas Filipino workers (OFWs).
With 180 affirmative votes, six negative votes, and no abstention, the chamber passed on third reading House Bill 10802, which seeks to amend the Migrant Workers and Overseas Filipino Act of 1995 (Republic Act 8042).
The measure seeks to expand the coverage of compulsory insurance for agency-hired OFWs to include rehires, direct hires, and government hires.
It would also include temporary partial disablement in the list of benefits to be enjoyed by the OFWs.
Makati City Rep. Luis Campos Jr. said the insurance coverage includes death, permanent disability, repatriation cost, subsistence allowance when involved in a case in the receiving country, money claims, compassionate visit by a family member or a requested individual when hospitalized for at least seven consecutive days, medical evacuation, and medical repatriation.
"This bill makes insurance coverage mandatory to all OFWs regardless of how they are able to legally get their employment overseas," Campos said.
Under the bill, the Insurance Commission, the Department of Labor and Employment, the Philippine Overseas Employment Administration, and the National Labor Relations shall be directed to study the inclusion in the repatriation benefits due to an epidemic, pandemic, war, civil unrest, disasters, and calamities, whether natural or man-made.
It shall also provide for the process of settling money claims of rehires, direct-hires, and government-hires through the administrative proceeding of single-entry approach, which has been institutionalized under Republic Act 10396 or the law strengthening conciliation-mediation as a voluntary mode of dispute settlement for all labor cases. (PNA)