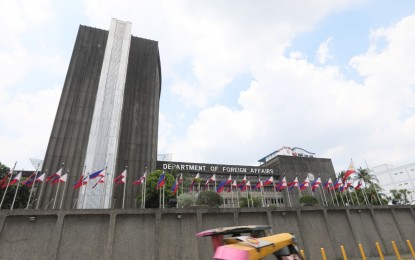 MANILA – A senior Chinese Embassy official was summoned by the Philippine government over the Chinese Coast Guard's (CCG) "harassment" of a Taiwanese vessel conducting research with Filipino scientists on board in the South China Sea.
The Department of Foreign Affairs (DFA) on Tuesday disclosed that the official was summoned on April 13.
"The Department summoned a senior official of the Chinese Embassy in Manila to protest the harassment by CCG on RV Legend, which had been conducting an authorized marine scientific research (MSR) activity, with Philippine scientists on board," it said in a separate statement.
The presence of foreign coast guard vessels in the vicinity of the MSR was "not consistent with innocent passage" and "are clear violations" of Philippine maritime jurisdiction, the DFA said.
It did not provide further details but said the activity was led by the University of the Philippines-National Institute of Geological Sciences.
In a May 26 report, the Asia Maritime Transparency Initiative (AMTI) said RV Legend was shadowed by CCG vessel 5203 at a distance of two to three nautical miles while conducting research about 60 nautical miles northwest of Luzon last March 24.
Taipei responded on March 25 by dispatching its own coast guard 5001 from Taiwan-occupied Pratas Island.
According to AMTI, Taiwan's 5001 maneuvered to keep the Chinese vessel away from RV Legend for the next two days, with the vessels "in some instances coming within 1,000 meters of each other".
Apart from this, it reported two separate incidents of CCG vessels challenging marine research and hydrocarbon exploration activities within the Philippines' exclusive economic zone (EEZ) in the South China Sea.
The DFA, for its part, confirmed the "presence of foreign coast guard vessels" around Reed Bank and in the vicinity of the Philippine-approved activities around Service Contracts No. 75 and 72, conducting activities inconsistent with the track of an innocent passage.
Detailed reports of these activities are being reviewed for the filing of appropriate diplomatic action, the DFA said.
"The Department of Foreign Affairs notes that only the Philippine Coast Guard has enforcement jurisdiction over these waters. The presence of foreign vessels following tracks that are neither continuous nor expeditious, that are not consistent with Article 19 of UNCLOS on innocent passage, are against the interests of the Philippines," it said.
The agency assured the public that it continues to firmly uphold Philippine interests as well as protect and preserve national security and territorial integrity.
"The Philippine Department of Foreign Affairs takes appropriate diplomatic action for violations of Philippine sovereignty, sovereign rights within our maritime jurisdiction," it said. (PNA)