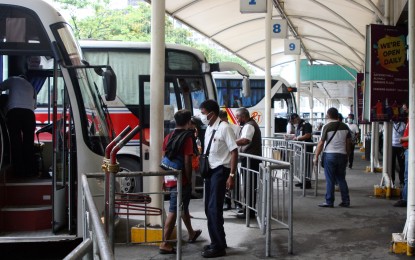 MANILA – The Department of Transportation's Office for Transportation Security (OTS) called on public transport operators and others in the transportation sector to ensure the strict implementation of approved security plans following two explosions in Isabela City, Basilan.
In a public advisory on Tuesday, the OTS advised transport operators to strictly implement security plans, especially on monitoring systems and access control.
"In view of the recent bombing incident which injured two people, all bus operators, rail system operators, bus terminal operators, and tollway operators are strongly advised to remain vigilant," the OTS said.
Public transport stakeholders are also reminded to perform regular inspection and control of prohibited items inside public utility vehicles, stringent screening of passengers and baggage before boarding, loading and unloading of passengers only in screened designated areas, and deployment of security personnel including K9 units and the use of security equipment.
Transport operators are also advised to report suspicious passengers, share intelligence or information with local and foreign counterparts, "enhance" provisions in the security plan to counter bus attacks, conduct drills and exercises in the said plan, and "implement appropriate undertakings" in their security and contingency plans.
On May 30, two explosions rocked Isabela City, with one explosion occurring inside a bus liner garage, injuring two persons and damaging a closed van and three buses.
A security officer interviewed by local cops alleged that a box of alcoholic drinks left by a passenger in the area was the source of the bus liner explosion at around 6:15 p.m.
The other explosion occurred 30 minutes earlier near the parking area of a fast-food chain in Barangay Isabela Proper, causing no injuries but some properties were damaged. (PNA)