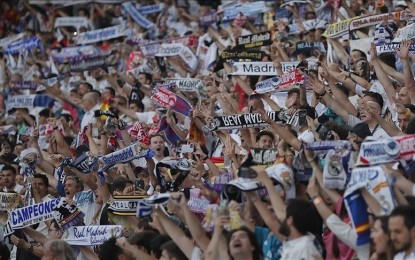 ANKARA – European football's governing body on Monday commissioned an independent report into the events that caused a delay of at least 30 minutes in the 2022 UEFA Champions League final.
"UEFA has today announced it has commissioned an independent report into the events surrounding the UEFA Champions League final in Paris on Saturday 28 May. The comprehensive review will examine decision making, responsibility and behaviors of all entities involved in the final," it said on its website.
Real Madrid defeated Liverpool 1-0 on Saturday to win the 2022 Champions League title at the Stade de France.
The Champions League final kickoff was delayed for more than 30 minutes because of late-arriving fans, UEFA confirmed on Saturday.
"The report will be independently compiled and Dr. Tiago Brandao Rodrigues from Portugal will lead the production of this review," UEFA said, adding Rodrigues will do this task on a "pro bono basis."
"The evil at the root at the origin of the situation on Saturday evening: massive and industrial fraud," French Interior Minister Gerald Darmanin said on Twitter earlier Monday, adding that "70 percent of the tickets presented for pre-screening were fake."
Darmanin and Sports Minister Amelie Oudea-Castera stressed that an excess crowd of 30,000-40,000 supporters came to the stadium with fake tickets or without tickets. (Anadolu)