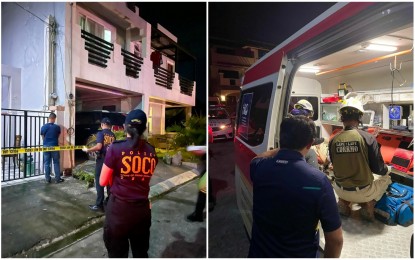 LAPU-LAPU CITY, Cebu – Mayor Junard Chan on Tuesday assured the safety of foreign travelers coming to this historical city after the kidnapping incident involving a 70-year-old Chinese national.
Chan said the police are still investigating the motive behind last week's abduction of Lyu Xingou, a businessman from Fujian, China who is currently a resident of Cebu City.
The victim was rescued by security forces on Monday night from the hands of his captors, who were all killed after engaging the lawmen in a shootout.
Chan said he ordered Lapu-Lapu City Police Office chief Col. Arnel Banzon to identify who is behind the kidnapping incident.
"Through our Lapu-Lapu City Police Office, I will make sure to find out exactly who the mastermind is in order to stop such acts. That way, we can give peace of mind to our visiting foreign nationals that they are safe in our city because of the ability of our police to solve similar crimes and arrest criminal crooks in society," he said.
According to the police, Lyu was seized on May 25 by his fellow Chinese nationals and brought to a house rented by the suspects in this city.
Chan said Lyu was unharmed and was brought to a private hospital for medical attention after his rescue.
Police Regional Office-7 chief Brig. Gen. Roque Eduardo Vega identified the slain suspects as Lin Heng, You Yiping, Li Fengqiang and Gong Jinming, all Chinese nationals and residents of Sitio Kauswagan, Barangay Bankal in Cebu City.
"Investigation showed the group was allegedly involved in the previous kidnapping case. Recovered pieces of evidence at the crime scene were four firearms used by the suspects," he said in a statement.
It can be recalled that two Chinese nationals who are members of a kidnap-for-ransom group were arrested on May 7 at their safe house in Barangay Mactan here as authorities rescued their victim, also a Chinese national.
A report said Lyu was seized from his house and dragged outside into a black Toyota Innova.
Despite being in China, the victim's son, Lyu Xicia, negotiated with the suspects who allegedly demanded 1,000,000,000 renminbi (almost PHP8 million) in exchange for his freedom.
The report said the family was able to send 500,000 renminbi via WeChat.
But the authorities were able to locate the house rented by the kidnapping group and conducted surveillance to ascertain if the victim was indeed locked up inside.
The elements of the Anti-Kidnapping Group, the Regional Intelligence Division, and the Regional Special Operations Group then swooped down on the house but the suspects opened fire on the authorities, resulting in a shootout.
"One of our policemen was hit by a bullet but he was saved by the bulletproof vest he was wearing during the rescue operation," Chan said. (PNA)