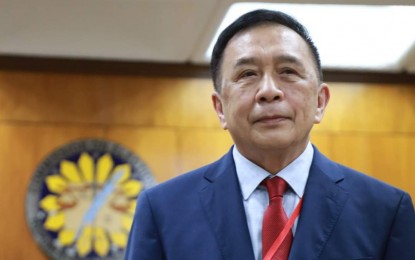 MANILA – The Commission on Elections (Comelec) said it is open to accept other service providers besides Smartmatic.
Comelec Election and Barangay Affairs Director Teopisto Elnas Jr. told the Senate that as far as interoperability is concerned, the poll body already experienced it during the 1998 ARMM (now BARMM or Bangsamoro Autonomous Region in Muslim Mindanao) elections where they served with two different service providers but did not need to coordinate with each other.
"In fairness to Smartmatic, they went through the process of bidding. If in case our budget would permit us to the point that we will be leasing new machines, then any provider can come and participate in the bidding," he replied to Committee on Electoral Reforms and People's Participation chair Sen. Imee Marcos who asked if the poll body can change or add service providers for the 2025 midterm elections.
Elnas pointed out there will be technical adjustments in case of a new service provider.
Jeannie Flororita, Comelec Information Technology Department Director, concurred with Elnas, saying that the software of Smartmatic vote-counting machines (VCMs) was bought and owned by the poll body and can be customized to be compatible with other brands.
"Based on the contract of the software, the software as customized, the ownership will be transferred to Comelec and we can do modifications in all of the source codes. In case we have two different systems, we can already integrate them into one," she said.
The poll body recorded 1,295 VCMs in the country and 15 abroad that malfunctioned and needed to be replaced during the May 9 polls, Commissioner George Garcia reported to the committee.
He said 611 SD (Secure Digital) cards in the country and seven abroad also needed replacements.
Still, Garcia said voter turnout reached 83.07 percent of the more than 65 million registered voters in the country and 39 percent abroad cast their ballots, the highest in the history of Philippine elections.
"It is better compared to the 2019 elections wherein Comelec recorded 2,256 defective SD cards and 1,400 defective VCMs," he recalled.
Comelec chairperson Saidamen Pangarungan said he wants VCMs changed to avoid problems in the next elections.
"The Comelec requested PHP12 billion in its 2022 budget and Congress only approved PHP8 billion kaya po napilitan ang (that's why it forced) Comelec na (to) refurbish the VCMs and then we have this malfunctions in the VCMs. So definitely, we will recommend to lease new VCMs kasi itong mga (because these) VCMs are 13 years old. Kailangan talagang gumamit tayo ng bago na mga (We really need to use new) VCMs for the 2025 elections," he said.
Marcos said she will discuss the proposal of buying or leasing new VCMs as much as the national budget can afford.
"And also being more nuanced in our warranty and penalty clauses so that we are allowed more elbow room in the event of a malfunction. This is really to improve our electoral process," she said. (PNA)