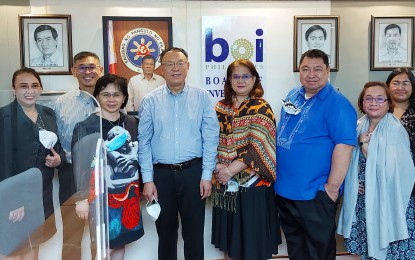 MANILA – The Board of Investments (BOI) said Tuesday the agency met with Chinese global pharmaceutical firm Yisheng Biopharma Co. Ltd. to discuss the company's investment plans in the Philippines.
Yisheng chairman Zhang Yi led the business delegation to Manila as the group also met with possible local partners here.
The Chinese pharmaceutical firm is engaged in the development and commercialization of biotherapeutics for cancers and infectious diseases through its novel PIKA immunomodulation technology.
The firm is operating in China, Singapore, and the United States.
"In the meeting, Chairman Yi and the Yisheng team shared that the company is preparing to initiate Phase III [of its] global multi-center clinical trial for its PIKA rabies vaccine, and Phase II-III combined trials for its PIKA COV-19 vaccine," BOI said in a statement.
BOI Executive Director for Investment Promotions Evariste Cagatan said Yisheng's investment plans in the Philippines are very timely as the BOI is collaborating with the Department of Health and the Department of Science and Technology for a vaccine self-reliance program by building the country's vaccine production capability.
The government is also eyeing to start the vaccine self-reliance program with the manufacturing of coronavirus disease 2019 vaccines.
BOI Executive for Industry Development Service Ma. Corazon Halili-Dichosa added that Yisheng may also look into establishing a manufacturing facility in the country by partnering with local firms or with the government through the National Development Company.
"Yisheng can start its operation with the fill-and-finish business arrangement and eventually start formulation and expand its activities in other pharmaceutical manufacturing value chains – which the company acknowledged as a possible investment consideration," BOI added. (PNA)