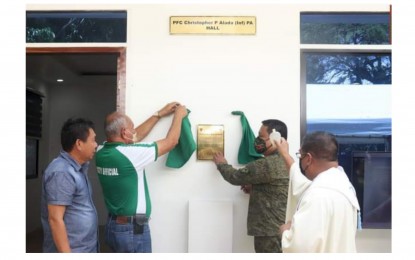 BACOLOD CITY – A soldier who sacrificed his own life to fight communist terrorists in northern Negros will be immortalized through the building named after him at the headquarters of the Philippine Army's 79th Infantry Battalion (79IB) in Sagay City, Negros Occidental.
Dubbed the Alada Hall, the structure is dedicated to the memory of the Private First Class (Pfc) Christopher Alada, a native of Badiangan, Iloilo, who died during an encounter with Communist Party of the Philippines-New People's (CPP-NPA) rebels in Barangay Kapitan Ramon, Silay City on August 20, 2021.
1st Lt. Dansan Camua, civil-military operations officer of the 79IB, said on Tuesday the building, constructed with the support of the City of Escalante, was inaugurated on May 29.
"This is the first time the 79IB has done this to honor one of its men," he added.
Alada's partner Kaye Liznette Arsenal witnessed the inauguration rites through video teleconference.
In a statement, Lt. Col. J-jay Javines, commanding officer of 79IB, expressed gratitude and appreciation to Mayor Melecio Yap Jr. for his assistance in the realization of the building project.
Javines unveiled the marker together with Vice Mayor Rogelio Prietos and executive assistant Aladdin Lumayno while Rev. Fr. Aurelius Pepino of St. Roch Parish Church led the blessing of the Alada Hall.
Alada, then 31, died following a 35-minute firefight with about 10 communist terrorists in the vicinity of Hacienda Raymunda.
He was laid to rest on September 11, 2021, at the public cemetery in his hometown with full military honors.
The CPP-NPA is listed as a terrorist organization by the United States, the European Union, the United Kingdom, Australia, Canada, New Zealand, and the Philippines.
The National Democratic Front has been formally designated as a terrorist organization by the Anti-Terrorism Council on June 23, 2021, citing it as "an integral and inseparable part" of the CPP-NPA created in April 1973. (PNA)