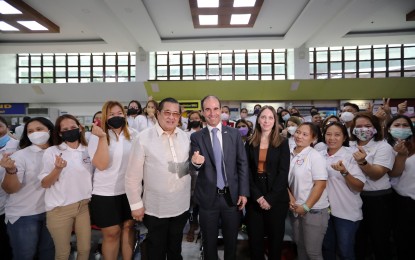 MANILA – The Philippine government is set to send off 61 Filipino hotel workers to Israel, the first deployment of its kind since the latter opened its hospitality sector to foreign workers.
Israel Ambassador to the Philippines Ilan Fluss said a total of 500 are set to depart Manila, with the first 61 leaving on June 1, 2022.
"Until now the hotel industry was closed, this is the first time that the hotel industry was able to invite foreign labor so for Israel this is very important For the Philippines, I believe it's also important because until now the only Filipinos who were allowed to work in Israel are caregivers," Fluss said during a send-off ceremony at the Philippine Overseas Employment Administration (POEA) in Mandaluyong City on Tuesday.
"We're just exiting the pandemic, I believe there is room for growth for the tourism industry so we're starting with the 61 tomorrow up to 500," he added.
Fluss assured that overseas Filipino workers would enjoy the same treatment as domestic employees in Israel.
"The rights of the employees are very clear and there is no difference in this aspect between foreign workers and Israeli workers," he said.
Asked if there are other industries interested in hiring Filipinos, Fluss said none yet at this point.
Department of Migrant Workers Secretary Abdullah D. Mama-o, meanwhile, described the latest deployment as proof that Filipinos are "quality workers".
"I'm glad that Israel recognized the competence of our Filipino workers. The first batch that we are sending will serve also as an example of the workers that we have in the hotel industry," he said.
"This shall encourage the employment of more Filipino workers in the hotel industry," he added. (PNA)