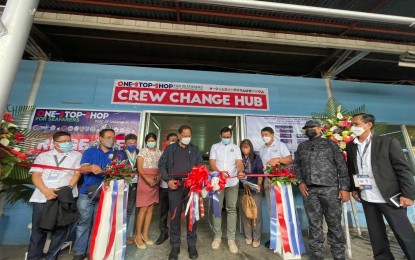 MANILA – A new crew change hub housing a one-stop-shop of government services for seafarers has been activated at the Port of Cagayan de Oro on Tuesday.
In a Facebook post on Wednesday, the Department of Transportation (DOTr) said the hub and its one-stop-shop help facilitate crew change requirements and activities in a single location.
"The newly-operationalized hub in Cagayan de Oro along with others is a significant step to ensure the overall well-being, safety, and employment of our seafarers amid challenges towards normalcy despite the prevailing Covid-19 pandemic," the DOTr said.
More crew change hubs are being eyed to open in the rest of the country through the help of the Philippine Ports Authority, the Philippine Coast Guard, the Cebu Port Authority, the Maritime Industry Authority, and the Office of Transportation Security.
"The government recognizes the importance of crew change in our country which greatly contributes to efficient, safe ship operations, helps address the global need for fresh manpower aboard, and a way towards international recognition," the DOTr said.
To date, other active crew change hubs include the Port of Manila, Currimao, Poro Point (La Union), Subic Bay Freeport Zone, Bataan, Batangas, Palawan, Iloilo, Cebu, Davao and Port of Zamboanga. (PNA)