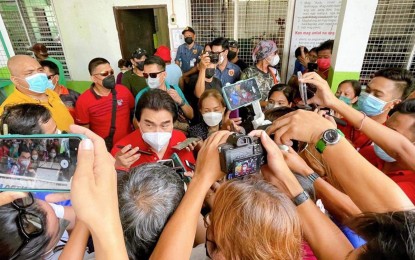 MANILA – The incoming Marcos administration is crafting a "more expansive" policy that will give media workers in the country more protection and benefits, Press Secretary-designate Trixie Cruz-Angeles said Wednesday.
"We are always concerned about the safety of our journalists. We are crafting possibly a new policy on this one. Possibly, [we will] also make it a little more expansive," Cruz-Angeles said during the Laging Handa briefing.
She issued the statement, as she acknowledged the National Press Club's (NPC) appeal for the incoming Marcos administration to continue supporting the operations of the Presidential Task Force on Media Security (PTFoMs).
Cruz-Angeles said the promotion of journalists' welfare would be included in the expanded policy.
The updated policy, she said, would help media practitioners cope with the Covid-19 pandemic.
"So, you know we are looking into welfare not just safety or protection because apparently the current policy is focused on attacks, physical attacks on our journalists. We would also like to look at expanding it to include the welfare of our journalists. Some of them have been hit very hard by the pandemic," she said.
On Oct. 11, 2016, President Rodrigo Duterte created PTFoMs by virtue of Administrative Order 1 to safeguard and protect journalists from threats and violence.
PTFoMS executive director Undersecretary Joel Sy Egco on Tuesday said the creation of the media task force is "indeed a legacy" of the Duterte administration because it has created a "safe environment" for Philippine journalists.
The NPC, in its special resolution, said media workers have relied on PTFoMs as their direct line to the Office of the President for prompt action on their concerns.
It also urged President-elect Ferdinand "Bongbong" Marcos Jr. to consider strengthening the PTFoMS by issuing an executive order converting it into a presidential commission for media security that will "broaden its power in effectively addressing all concerns related to the country's media sector."
The NPC endorsed its former president, Egco, as chair of the proposed body. (PNA)