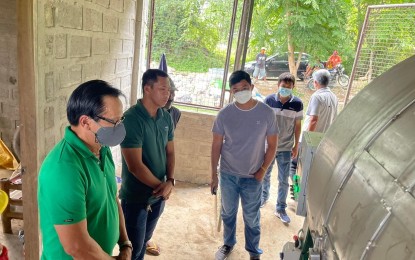 LAOAG CITY – A new composting facility is now open in Narvacan, Ilocos Sur to divert organic wastes from the landfill while providing more jobs and economic opportunities for the locals.
Funded by the municipality of Narvacan, the town composting facility in Barangay Sucoc can process a ton of compost material within 24 hours, and a brand new shredder with the capacity to process two tons of organic waste per day.
During the ceremonial switch-on of the composting facility, Mayor-elect Pablito Sanidad said this will be of great help to the farmers as the biodegradable wastes will be converted into organic fertilizer in support of the government's sustainable agriculture program.
"The composting facility will not only reduce the amount of waste that ends up in sanitary landfills but it will also transform the diverted wastes into useful organic fertilizer," he said.
Based on records from the National Solid Waste Management Commission, around 52 percent of the municipal waste in the country is biodegradable.
With an accessible composting facility, residents may no longer encounter problems with solid waste should they comply with Republic Act 9003 or the Ecological Solid Waste Management Act passed in 2001.
Under the law, local governments are mandated to divert at least 25 percent of solid waste from waste disposal facilities through reuse, recycling, composting, and other resource recovery activities.
The new composting facility is seen to complement the government's efforts to manage solid waste and promote organic farming using organic fertilizers. (PNA)