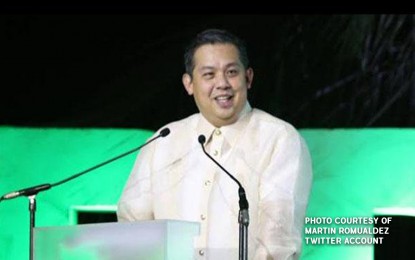 MANILA – The House of Representatives has approved about 1,600 measures on the third reading since the start of the 18th Congress, Majority Leader Martin Romualdez said on Wednesday.
During his speech before the sine die adjournment, Romualdez commended his fellow legislators and House employees who worked "beyond the call of duty in order to make the 18th Congress one of the most productive ever," especially amid the pandemic.
He said out of the 1,600 bills, more than 300 had been enacted into law, some of which were crafted to address the ill effects brought by the pandemic, such as the Bayanihan 1 and 2 laws, which allowed the release of billions of pesos for pandemic response.
"The outbreak of the Covid-19 (coronavirus disease 2019) pandemic posed a big challenge for us here in the 18th Congress. How do we resume work and protect our people from the ravages of the pandemic when senior citizens and people with co-morbidities are discouraged (from) going out of their residences," he said.
"It was a good move to embrace technology that allowed House members to participate in all proceedings through electronic means, including email, teleconferencing, and messaging apps."
Even as they adopt hybrid sessions, Romualdez said some congressmen and House employees still reported for work daily at the risk of catching the virus.
"While almost everybody locked themselves in their homes for safety in the first few months of community quarantine, House members and employees went out of their way to report for work and perform their duties diligently," he said.
Romualdez cited that the Department of Budget and Management (DBM) has released a total of PHP646.97 billion to support the implementation of various projects, activities, and programs in response to the pandemic under the Bayanihan Laws.
Of the amount, PHP387.17 billion was released under Republic Act (RA) 11469 or the Bayanihan to Heal as One Act (Bayanihan I).
Implementing agencies reported that they have already obligated PHP358.24 billion and disbursed PHP339.65 billion, thus corresponding to a 92.53 percent obligation rate and 94.81 percent disbursement rate, respectively.
Releases under RA 11465 or the Bayanihan to Recover as One Act (Bayanihan II), meanwhile, amounted to PHP259.80 billion.
Of this, PHP132.65 billion has been obligated with only PHP93.31 billion disbursed based on agency reports submitted to the DBM.
This translates to a 51.06 percent obligation rate and 70.34 percent disbursement rate. (PNA)