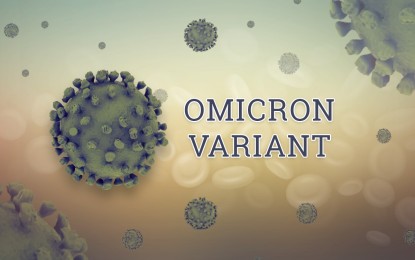 MANILA – No severe coronavirus disease 2019 (Covid-19) cases so far have been recorded by health authorities despite having an uptick of active cases, Vaccine Expert Panel member, Dr. Rontgene Solante, said Wednesday.
In a televised public briefing, Solante cited those Covid-19 patients needing oxygen treatment and experiencing respiratory failures have been significantly reduced, following the surge caused by the coronavirus variant.
"Well, one good thing, one good news is that despite na nakikita natin na may kaunting uptick ang mga kaso ngayon (seeing a slight uptick now in cases), we have never seen any more Covid cases na talagang nagsi-severe (that are really severe)," he said.
The OCTA Research Group earlier said Covid-19 cases in Metro Manila have climbed to 1.4 percent this week, compared to 1.2 percent in the previous week.
The one-week average daily attack rate also increased from 0.51 to 0.52, however it remained at low risk.
"So our assumption to this is that, yes, this new variant of concern, the Omicron, can be highly transmissible. But I don't think this is the same variant of concern that we had with Delta na talagang mas malala ang presentation, na mataas din ang mortality (has really bad presentation and the mortality rate is high)," Solante said.
He added the Omicron variant will usually attack the infected patient's upper respiratory tract rather than the lower respiratory tract, resulting in experiencing only mild symptoms.
"And, in fact, kadalasan talagang walang nararamdaman, pupunta lang sa ospital kasi nagpa-positive sila sa mga tests nila (oftentimes they won't feel anything, they just go to the hospital because they tested positive)," Solante said.
Solante sees the future cases would be manageable despite the emergence of Omicron sub-lineages.
"These sublineages of the Omicron, being highly transmissible, but they don't cause a lot of these symptoms. And in fact, kung sasabihin man natin (if we would say), a lot of these are underreported, [it's] because most of those with Omicron are asymptomatic or very mild symptoms," he said.
Solante said there is still a need to continue the monitoring of Covid-19 cases because it will still indicate the level of restrictions to mitigate the impact of the pandemic.
The country's hospitalization rate is currently at a very low percentage.
The OCTA Research also noted the massive Covid-19 vaccination program has greatly contributed to the reduction of cases in the country. (PNA)