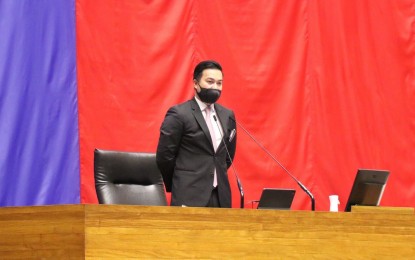 MANILA – The House of Representatives on Wednesday adjourned sine die its third and final session of the 18th Congress, leaving behind key legislation that would help the country recover from the pandemic.
In his closing speech, Speaker Lord Allan Velasco thanked all House members and workers who exerted efforts to ensure that the legislature remained dynamic and productive despite the challenges posed by the Covid-19 pandemic.
"Allow me to thank each one of you for all the help and support, particularly to Majority Leader Martin Romualdez and Minority Leader Caraps Paduano, for being my true partners in building this One Congress," Velasco said. "Despite the many challenges that happened during my tenure as your Speaker, we have risen and proven ourselves to be One Congress, ready to serve our people."
Velasco said the 18th Congress was "a key and steady partner" of the Executive Department under President Rodrigo Duterte in passing laws that promoted economic development, strengthened the administration of justice and the rule of law, enhanced the protection of labor and social welfare, improved the quality of and increased access to education and information, enhanced the health and emergency response system, and strengthened political and governmental institutions.
He enumerated some of the vital pieces of legislation he labeled Tulong, Tatag, Tapang and Malasakit.
He said the 18th Congress passed key economic laws or "Tulong" bills that are expected to facilitate the country's recovery from the pandemic, including the amendments to the Retail Trade Liberalization Act, the Foreign Investments Act, and the Public Service Act.
Velasco said the passage of this trifecta of economic liberalization laws marks an important landmark meant to ease restrictions and will help bring in projected investment leads of USD100 billion over two years, and create more jobs for Filipinos that would help drive the country's economic recovery.
Aside from the Bayanihan laws, Velasco said the outgoing Congress also passed several laws as "Tugon" measures for the pandemic, such as the vaccine procurement law and the Streamlining Government Services in Times of National Emergency Act.
He said the best "Tugon" for the pandemic remains the timely passage of the 2021 and 2022 national budgets, which would fund the pandemic-response programs of the national government.
Velasco said they also passed institution-building or what he called the "Tatag" bills including RA 11768, which seeks to strengthen the Sangguniang Kabataan; RA 11713, to support teacher education in the country; RA 11709, which creates fixed terms for key officers of the armed forces; and RA 11697, which paves the way for the development of electric vehicle industry in the country.
He added that they have passed what he called "Malasakit" laws such as RA 11767, which seeks to promote the rights of foundlings or abandoned children; RA 11650 which would ensure inclusive education for learners with disabilities; and RA 11648 which seeks to provide stronger protection for children against sexual abuse and exploitation by raising the age of sexual consent from 12 to 16.
"We shall leave the House of the People with hope for the future under the new President, with the satisfaction that we have given our best to serve our people, and trust that the House shall continue what we have started -- with unreserved 'tapang' and 'malasakit'," he said. (PNA)