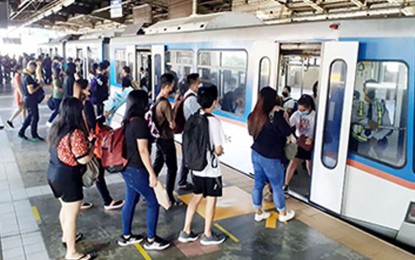 MANILA – The Metro Rail Transit Line 3 (MRT-3) has clarified that the passenger congestion at the Ortigas Avenue Station since Wednesday was caused by a faulty escalator, which has been restored Thursday morning.
In a statement on Thursday, the MRT-3 said the faulty escalator resulted in a single entry and exit point at the northbound side of the station, causing passenger buildup at its stairway and footbridge.
"During normal operations, the escalator is used as access of MRT-3 passengers, bus passengers, and passers-by going to and from nearby malls, while the stairway is used by exiting MRT-3 passengers," it said.
The narrow walkway at the street level also contributed to the build-up as only one person can walk through at a time.
"However, no long queues were observed inside the MRT-3 platform and concourse area," the MRT-3 said.
In response to the congestion, the station security implemented a "stop-and-go" scheme to control and manage the crowd while technicians from the MRT-3's maintenance provider were "alerted of the situation" and arrived to troubleshoot and repair the escalator.
"Passenger flow was also normalized at around 9:30 a.m.," it said.
Passengers have been assured that "necessary steps" would be taken to avoid similar incidents in the future through the deployment of technicians on stand-by and close coordination with the road sector enforcers in crowd management.
"We extend our deepest apologies to all our passengers who were inconvenienced by the incident," the MRT-3 said. (PNA)