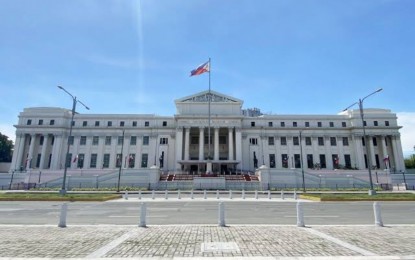 MANILA – The camp of president-elect Ferdinand "Bongbong" Marcos Jr. has picked the National Museum of the Philippines in Manila as the venue for his inauguration as the country's 17th chief executive on June 30.
The National Museum, after being inspected by Marcos' inaugural committee, was found to be the "suitable" site for Marcos' oath-taking, Presidential Management Staff (PMS) secretary-designate Zenaida "Naida" Angping said.
Angping said preparations are underway to ensure Marcos' smooth inauguration.
"The National Museum of (the) Philippines building and its surrounding areas match our requirements for President-elect Marcos' inauguration. Preparations are already in full swing to ensure that it will be ready by then," she said in a press statement.
The National Museum, formerly known as the Old Legislative Building, has served as the venue for the inauguration of former presidents Manuel L. Quezon (1935), Jose P. Laurel (1943), and Manuel Roxas (1946).
It is one of three historical sites earlier being considered by the Marcos camp as possible inaugural venues.
The other two were the Quirino Grandstand and Fort Santiago.
The Quirino Grandstand was where Marcos' father and namesake, the late president Ferdinand Marcos Sr., held his inauguration as the country's 10th president in 1965.
Angping said the Quirino Grandstand was not chosen as the venue for Marcos' inauguration because the ocular inspection team had noticed that it was surrounded by several field hospitals accommodating individuals infected with the coronavirus disease 2019 (Covid-19).
"The safety and welfare of our people are paramount. As such, we chose to avoid disrupting the medical care being given to the Covid-19 patients housed there. That's why we opted for the National Museum as the venue," she added.
On May 25, Marcos was proclaimed by Congress as the country's new president after winning the 2022 national elections by a landslide 31,629,783 votes, or more than 16 million votes ahead of the closest contender, Vice President Maria Leonor "Leni" Robredo. (PNA)