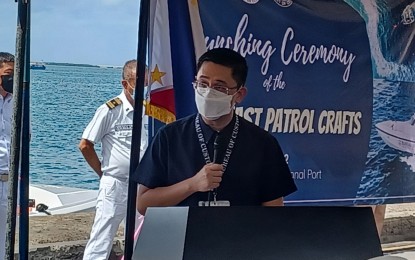 CEBU CITY – The Bureau of Customs-Port of Cebu on Thursday reported a surplus in its PHP3.605-billion collection for the month of May.
Lawyer Charlito Martin Mendoza, BOC-Cebu collector, said their collection is 22.37 percent higher than the PHP2.946 billion target, or a surplus of PHP659.22 million.
"This five-month streak of beating monthly targets brings the port's total revenues for 2022 to PHP16.221 billion and now banks a PHP2.78 billion surplus for the year," he said in a statement.
Mendoza said the May collection is the highest revenue performance of the BOC-Cebu in a single month, breaking April's record by PHP71.4 million.
Compared to the 2021 collection for the same month, the May 2022 revenue is PHP1.35 billion higher.
Mendoza noted an almost 60-percent growth achievement in revenue collection.
He attributed the feat to the good governance reforms in the bureau as a whole and the unswerving commitment of the personnel to serve.
The BOC-Cebu chief also cited the support of its stakeholders and partner government agencies in helping them achieve their mandate to collect duties and taxes as well as help spur the economy by combating smuggling.
Mendoza vowed to continue strengthening Cebu customs revenue collection performance "by strictly implementing the valuation and classification rules, maximizing the use of ICT systems to facilitate cargo clearance, and conducting regular stakeholder engagement to boost customs compliance".
BOC-Cebu deputy collector for assessment Conrado Abarintos said oil, coal, steel, cement, rice, palm olein, and rice importations are among the major contributors to the revenue collection.
He cited Filoil Logistics Corp., Seaoil Philippines Inc., Steel Asia Manufacturing Corp., Ecossential Foods Corp., and Joyland Industries Corp., and Apo Cement Corp. as the top five major revenue contributors in the Port of Cebu. (PNA)