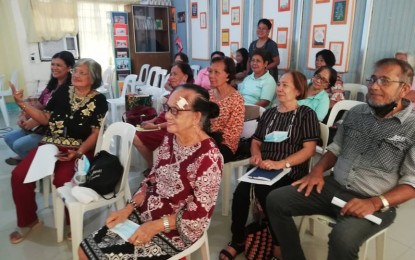 MANILA – The head of the Commission on Human Rights (CHR) said Thursday the passage of bills seeking to double the monthly pension of indigent senior citizens and grant income tax exemption to poll workers would address the plight of the vulnerable sectors.
CHR Executive Director Jacqueline Ann de Guia said the proposed measures would help alleviate the financial constraints among the vulnerable populations, hence the commission's "strong support" for Senate Bills 2506 and 2530 approved by the House of Representatives on Tuesday.
The House adopted the measure granting a raise on the social pension of poor senior citizens to PHP1,000 from the current PHP500.
It also adopted a bill on the exemption from income tax of honoraria, allowances, and other financial benefits received by teachers who served in the recently concluded May 9 elections.
The Senate passed both proposed measures on Monday.
"Once enacted into law, the said bill is expected to help alleviate the financial concerns that beset indigent senior citizens while also concretely honoring the hard work of poll watchers," de Guia said.
"CHR believes that this initiative would provide the elderly a more sustainable allowance as the prices of goods and medicines continue to rise."
She lauded the passage of Senate Bill 2506, which "manifests respect to the rights of the elderly" and recognizes their "rights to attain dignified aging."
The proposed law also transfers the distribution of the monthly payment from the Department of Social Welfare and Development to the National Commission of Senior Citizens within three years after its effectivity.
"CHR equally appreciates the tax exemption for the teacher-poll watchers for this serves as a tangible incentive to honor their service and sacrifice during the crucial election period. It is a well-deserved compensation for their hard work in ensuring our right to vote," she said.
De Guia said the proposed bill exemplifies Article II, Section 9 of the Constitution to enact policies that would help ensure a better standard of living for all.
"It is also in line with the social justice and human rights provisions of the Constitution that tasks the government to uplift the lives of the common people to ensure equity," she added.
The CHR called for the "swift passage" of the proposed bills to "ensure that indigent seniors and poll workers" can immediately enjoy the benefits "given the rising cost of goods and services."
"We look forward to similar equal efforts that will alleviate the plight of vulnerable sectors," de Guia said.
Both bills are now up for the signature and approval of President Rodrigo Duterte. (PNA)