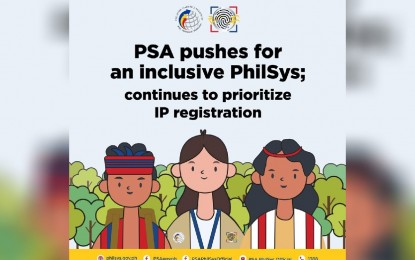 MANILA – The government on Thursday reassured the inclusivity in the implementation of the Philippine Identification System (PhilSys) project that provides proof of identity to all Filipinos.
In an advisory, the Philippine Statistics Authority (PSA bared it has signed a memorandum of agreement with the National Commission on Indigenous Peoples (NCIP) to provide easy registration access for indigenous tribal members who will be willing to get their own Philippine Identification (PhilID) cards for free.
The deal includes the opening of mobile PhilSys registration sites within IP communities.
The PSA said government personnel will be assisting the IPs in the whole registration process, to make sure that no one will be left behind in the implementation of the PhilSys project.
PSA Undersecretary Dennis Mapa, who is also the National Statistician and Civil Registrar General, said the PhilSys project primary aims to establish a sustainable and inclusive identification system for all Filipinos, most especially for the vulnerable sectors of society.
"We extend our utmost appreciation to NCIP for their support to PhilSys and their commitment to uplifting indigenous communities nationwide," he said.
On May 18 last year, the PSA initially rolled out a mobile PhilSys registration initiative in Porac, Pampanga, assisting Aeta communities located in the villages of Camisa, Villa Maria, Inararo, Diaz, and Sapang Uwak.
Adamant to its promise of inclusivity, PSA assisted in the registration of 254 more Aetas that are residing in Floridablanca, Pampanga on March 19 this year.
Also, a PhilSys registration for IPs in Occidental Mindoro is ongoing.
To date, a total of 10,972 IPs belonging to tribes of Ratagnon, Hanunuo, Gubatnon, Tao Buid, and Iraya have been successfully registered to PhilSys.
PSA Assistant Secretary Rosalinda Bautista assured the public that the PhilSys Registry Office will exert similar efforts "as it continues to register the last mile of the population."
"Through this partnership with NCIP, we are confident that we will be able to register more members of indigenous communities and improve their access to financial, social welfare, security, health, education, and other government services," she said.
More Filipinos, regardless of race, are urged to sign up for the PhilSys Step 1 process via register.philsys.gov.ph, and Step 2 is capturing biometric information such as fingerprints, iris, and front-facing photographs at various registration centers nationwide.
Step 3 is the delivery of the physical PhilID cards to owners by the Philippine Postal Corporation (PHLPost).
The PSA will likewise launch soon a PhilSys mobile application to provide an alternative version of "proof of identification" for transactions while registrants are waiting for their physical cards.
Signed into law by President Rodrigo Duterte in August 2018, Republic Act 11055 or the PhilSys Act aims to establish a single national ID for all Filipinos and resident aliens.
The national ID shall be a valid proof of identity that shall be a means of simplifying public and private transactions, enrolment in schools, and the opening of bank accounts.
It will also boost efficiency, especially in dealing with government services where people will only need to present the PhilID during transactions. (PNA)