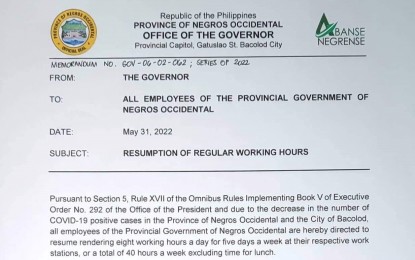 BACOLOD CITY – Personnel of the Negros Occidental provincial government have returned to a five-day work week set up after more than a year of working from home on Fridays at the height of the coronavirus disease 2019 (Covid-19) pandemic.
In a May 31 memorandum released on Thursday afternoon, Governor Eugenio Jose Lacson directed all employees to resume rendering eight working hours for five days a week at their respective workstations.
"(This is) due to the decrease in the number of Covid-19 positive cases in the province of Negros Occidental and City of Bacolod," he added.
As of June 3, Negros Occidental has only 27 active Covid-19 cases.
Lacson also cited Section 5, Rule XVII of the Omnibus Rules Implementing Book V of Executive Order 292 of the Office of the President, which states that "all government officials and employees are required to render eight working hours a day for five days a week, or a total of 40 hours a week, excluding time for lunch."
On Aug. 28, 2020, the provincial government first adopted the four-day work-week arrangement as a measure to curb the spread of Covid-19.
Employees returned to a five-day work-week duty on November 9 of the same year.
Then on April 16 last year, and every Friday thereafter, Capitol employees resumed working from home up until the last week of May this year. (PNA)