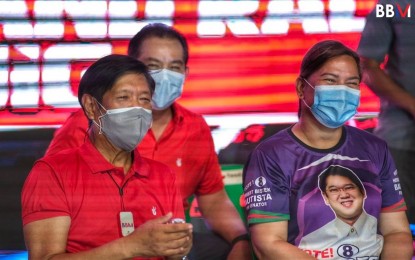 MANILA – The Philippine National Police (PNP) has created a task force that would oversee the security preparations for the inaugurations of President-elect Ferdinand "Bongbong" Marcos Jr. and Vice President-elect Sara Z. Duterte-Carpio.
Marcos' camp announced that his inauguration will be at the National Museum in Manila on June 30 while Duterte will hold her inauguration in Davao City on June 19.
Col. Jean Fajardo, PNP spokesperson, said the PNP created Security Task Group Manila to handle all the security preparations for Marcos' oath-taking while Security Task Group Davao will take care of the preparations for Duterte.
Fajardo said the police force is in coordination with the transition team of the incoming administration to ensure that the inauguration will be "smooth" amid the looming protests and recent bomb attacks in Mindanao.
"Nagstart na tayo makipagpulong sa concerned agencies particularly 'yong transition team ng papasok na administrasyon at nagkaroon ng ocular inspection kahapon (We started meeting with concerned agencies particularly the transition team of the incoming administration and there had been an ocular inspection yesterday [Thursday])," Fajardo said during the Laging Handa press briefing on Friday.
Fajardo said the PNP has not monitored any security threat related to Marcos and Duterte inauguration despite the recent explosions in Isabela City in Basilan, and Sultan Kudarat.
"Nonetheless, we are not complacent and we continuously conduct intelligence monitoring and gathering to ensure that we would not be caught off guard by any eventuality that could disrupt the inauguration of the top two officials of our country," she said.
Fajardo said the PNP is anticipating street protests during the inaugurations.
"Sa mga kababayan natin, inirerespeto natin ang karapatan nila na magpahayag ng kanilang mga damdamin subalit dapat ay nasa within the bounds of the law at nasa proper forum nila gawin 'yong kanilang pagpo-protesta (To our fellow citizens, we respect your right to voice your concerns but make sure that it is within the bounds of the law and you are in a proper forum when you conduct your potests)," Fajardo said.
Meanwhile, Brig. Gen. Roderick Augustus Alba, chief of the PNP-Public Information Office, said the PNP is in full swing as far as preparation is concerned and police are ready to assist the Presidential Security Group (PSG) in securing the two events through the PNP's Police Security and Protection Group.
"With this, the PNP is tasked to assist in the security of the venue and even to the areas where he will pass through. Just like the concerned agencies and other law enforcement units, the PNP is in full swing as far as preparation is concerned," Alba said in a separate statement.
"There was already coordination with the PSG on the deployment. The number of security personnel is kept confidential due to security purposes," he added. (PNA)