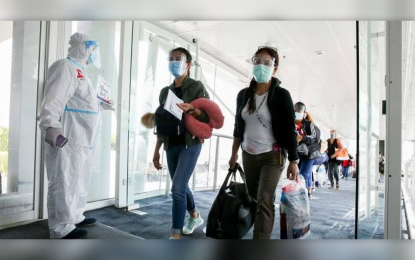 DAVAO CITY – The City Social Welfare and Development Office (CSWDO) is advancing a reintegration program for Overseas Filipino Workers (OFWs) who are planning to return to the city.
"We are offering the returning OFWs the program where they can choose to have a livelihood or employment for when they go back to the city. We conduct an assessment and match them with the appropriate livelihood training or employment opportunity," CSWDO OFW coordinator Rosevic Jayme said in an interview on Friday.
Moreover, the CSWDO includes assistance for the OFWs' kin who are left here.
"The goal is to help the OFWs and their families earn (a) decent income without solely relying (on) the family member working overseas. We can connect the family who are left in the city with other government agencies who are offering opportunities for income growth so that they will have a separate source of livelihood," she said.
This way, Jayme said, the family member abroad could achieve financial independence much earlier.
"When they decide to return home, it will be easier for them already," she said.
The CSWDO's OFW Crisis Center is currently serving 49 clients in the city.
Jayme noted that their office has already received OFWs or their families who are left behind as clients even before the formation of the center.
The center was opened recently to act as the central referral hub for concerns of migrant workers. It features an online consultation platform to offer convenience for clients who want to reach out and demand urgent attention.
The establishment of the center is the offshoot of City Ordinance 0411-20 series of 2020, which institutionalized the creation of a center that would focus on the protection of rights, interests, welfare, and development of the families of the Dabawenyos who left abroad for work.
In a separate interview, Inorisa Elento, executive director of the Mindanao Migrants Center for Empowering Actions, Inc., said services such as these can be availed of by OFWs and their kin nationwide upon the creation of the Department of Migrant Workers.
"These are the types of services we wish could be availed by OFWs who reside across the country. Hopefully, the department for OFWs will be opened soon so they could feel the government's assistance," she said. (PNA)