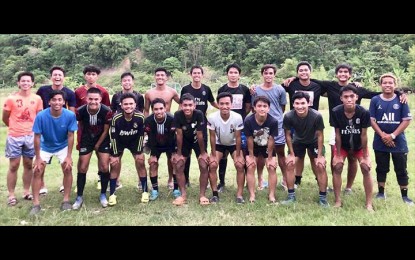 CAGAYAN DE ORO CITY – The Iligan-Lanao Regional Football Association (ILRFA) will host Group F of the Philippine Football Federation (PFF) Boys' Under-19 regional competition at the Mindanao Civic Center (MCC) in Baroy, Lanao del Norte on June 18 to 22.
In an interview Saturday, ILRFA president Percy Olandesca thanked Lanao del Norte Governor Imelda Dimaporo for allowing them to use the sprawling venue after Ozamiz RFA and Pagadian begged off.
"The PFF wanted Ozamiz to host the elimination but the local FA begged off. Then they asked Pagadian of the Zamboanga del Sur-Sibugay RFA. They also begged off because their pitch is not ready," he said.
MCC was used as a quarantine facility at the height of the pandemic but Dimaporo and tournament commissioner Peter Laurence Legaspi assured the venue is properly disinfected and prepared for the hosting.
Lanao del Norte is on Alert Level 2 until June 15.
Coach Amor Tapion, an Asian Football Confederation Class B mentor, is positive his players will do well against the FA from Zamboanga -Basilan-Sulu-Tawi-tawi; Pagadian, Zamboanga del Sur-Sibugay; and Ozamiz, Misamis Occidental.
"The players were selected from various schools and clubs from the different provinces. The boys are hungry for success," Tapion said.
He added: "The ILRFA has supported us 100 percent. From Lanao del Norte, Lanao del Sur to Iligan they have supported us. Thanks to them especially our president."
The players are Abasolo, Jaybe; Ali, Jhinno; Bargamento, Rome Vaulghin: Bargamento, Shayne Milhaud: Catalan, Rafael Onelle; Chavez, Jett Ivan; Cuares, Aleksey Gabriel; Filosopo, Alexis Lawrence; Glodove, Carlos Leonard; Isola. Art Rey; Lara, Jose Lorenzo: Nayawan, Ihraghel; Lonoy, Dean Nicholie; Macabato, Jeffats; Montecino, Angelio; Musa, Ashraf; Hinoo, Michael; Quidlat, Adrienne Joshua; Rubio, Naethan Lenard; Sibla, James Andrew; Gaspar Allan; Tam, Sean Maurice; Vicente, July Vicera; and Cesar, John.
Tapion will be assisted by coach Monico dela Cruz Jr. while Legaspi is sub-assistant. (PNA)