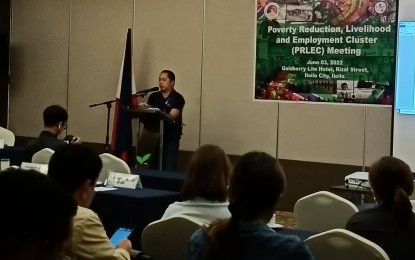 ILOILO CITY – The Poverty Reduction, Livelihood and Employment Cluster (PRLEC) of the Regional Task Force to End Local Communist Armed Conflict in Western Visayas (RTF-ELCAC 6) reaffirmed its commitment to continue interventions in the region's insurgency-cleared barangays beyond the term of President Rodrigo R. Duterte.
Jerry G. Tizon, director of the regional office of the Technical Education Skills and Development Authority (TESDA), said on Saturday he does not see any reason for the next administration to end the ELCAC, given the impact of the interventions, especially in remote areas. TESDA is the lead agency of the PRLEC.
"That is our anticipation and that is our hope and because there was already a pronouncement from the incoming president that the good programs of the current administration will continue, especially the national NTF-ELCAC. Assuming that it will stop, the cluster members will continue doing their job to also uplift the lives of our constituents, especially in remote areas," Tizon said in an interview.
The PRLEC is present in the majority of the barangays that were cleared of insurgency in 2021 and this year, they hope to extend interventions in at least 45 of the 90 villages.
A total of 72 barangays in Western Visayas were cleared of insurgents in 2019, while 93 more were cleared from 2020 to 2021.
He added though that they were unable to capture all the programs and activities of the PRLEC although their member agencies have had so many accomplishments in the past months.
Most of the accomplishments were in the pre-implementation, off-grounding, and sustainable stages.
"Data will show that we have not reached the exit stage because it is supposed to be a concerted effort and not just for one agency. When we say exit stage, majority of the cluster (members) would be able to deliver programs and interventions that would make the covered community stand on their own with little intervention," Tizon said.
During Friday's meeting, TESDA Deputy Director General Aniceto Bertiz III of the Partnership and Linkages, said they are "hoping and lobbying" for the next administration to continue the program.
Bertiz said former rebels availed of skills and livelihood through the whole-of-government approach under Executive Order 70 that created the NTF-ELCAC. (PNA)