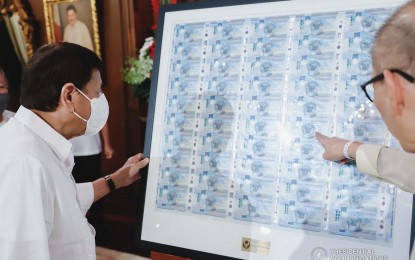 ZAMBOANGA CITY – The Bangko Sentral ng Pilipinas' (BSP) office in Zamboanga City announced that the new PHP1,000 bill will circulate here starting the fourth quarter of the year.
Noelle Angela Pamaran, BSP senior research specialist, said 10 million pieces of the polymer bills were initially printed and most were released in the National Capital Region in April.
"It (new banknote) will be circulated by the fourth quarter this year or 2023 here. All of us will have the opportunity to get hold of the first polymer bill banknote in the Philippines," Pamaran said in a statement on Saturday.
The new PHP1,000 bill features the Philippine eagle and the Tubbataha Reefs Natural Park in Palawan.
The new bill is cleaner, stronger, and difficult to counterfeit, according to the BSP. It can also be disinfected and recycled.
Experts say polymer banknotes last at least 2.5 times longer than paper ones and could withstand extreme temperatures.
Pamaran said the old PHP1,000 will still be used together with the new banknote.
She said they would observe the reaction of the public to the new banknote and if it gains positive reviews, there is a possibility that all New Generation Currency banknotes would be replaced with polymer bills.
Meanwhile, Pamaran reminded the public to spend the new currency and not sell them for profit.
"Please use it (new PHP1,000 bill). Do not sell it at a higher price. We cannot trade our money," she said. (PNA)