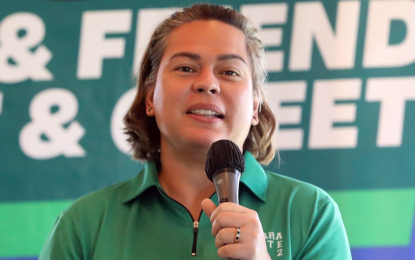 DAVAO CITY – Vice President-elect Sara Duterte on Saturday night lambasted the social media post of a journalist who is a known critic of the Duterte administration, saying it demonized Mindanao and insult its people.
In her Twitter post on June 2, Raissa Robles said that as incoming Tourism Secretary Christina Garcia-Frasco would like to open Mindanao to tourists, she is sure "the extremist Abu Sayaf and other bandits would be pleased by the prospects of so many potential kidnap victims".
Robles asked Frasco to "prep yourself for ransom negotiations" as the ASG (Abu Sayyaf Group) might ask for her.
In a statement, Duterte said the views expressed by Robles on Mindanao in reaction to Frasco's plans to develop the region as a tourist destination are "replete with journalistic recklessness and irresponsibility -- something that calls for our collective condemnation as it grossly discriminated against all Mindanawons, especially those living in Moro communities".
The VP-elect pointed out that Robles clearly wanted to undervalue everything that the Duterte administration has done in keeping peace and security in Mindanao and ensuring that concerns caused by terrorist organizations, including kidnap for ransom groups, are addressed appropriately with the help of local governments and leaders of communities.
"As a Filipino, Robles should be ashamed of herself for dangerously trying to stoke and encourage terrorist groups to target tourists in Mindanao," Duterte added.
She said that since 2016, the kidnapping operations by the ASG in Mindanao have been significantly reduced compared to the previous years and authorities have successfully rescued all victims.
"In Basilan, as confirmed by Rep. Mujiv Hataman himself, there had been zero kidnapping incidents since President Duterte came into office. All other incidents concerning ASG have been about the arrests and surrenders of their members and leaders," the younger Duterte added.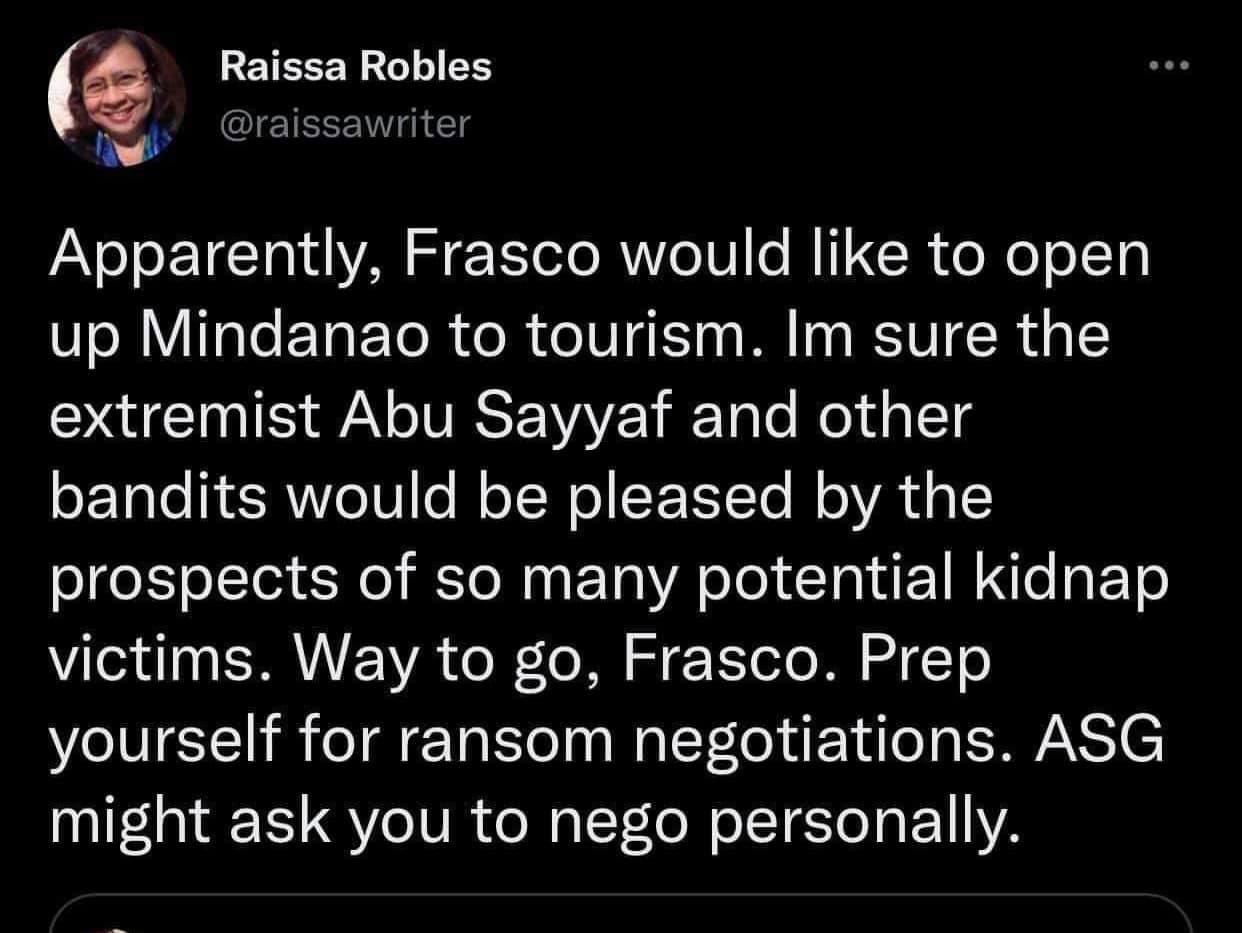 Meanwhile, Rep. Shernee Tan-Tambut of the Kusug Tausug party-list also protested the ugly picture Robles painted of Mindanao, particularly its Muslim provinces, as stronghold of kidnappers and bandits.
"I am utterly dismayed that a journalist like you, with connections to international papers, would carelessly suggest in a public forum like Twitter that tourists in Mindanao will be sitting ducks for kidnappers and other criminals," she said.
Tambut added that her claims were totally untrue since Mindanao is peaceful and progressive and its Muslim provinces are doing their best to contribute to the nation's growth.
As a responsible journalist, Tambut reminded Robles to put fairness and facts before her biases.
"Your overpowering dislike for the President-elect should not give you a reason to pass unfounded judgment on policies that are yet to be implemented; neither should it give you a license to make false assumptions that mock the efforts of the Muslim Mindanao provinces to maintain peace and stability so that they can draw in investors and tourists," she added.
Tambut invited Robles to experience the beauty of Sulu, Tawi-Tawi, and Zamboanga City.
"I will personally accompany you there so you can see for yourself how the people live in peace in these places and how they work hard to earn a living," she added. (PNA)