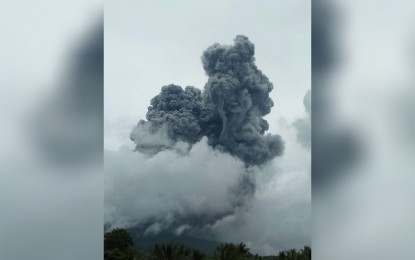 MANILA – The Philippine Institute of Volcanology and Seismology (Phivolcs) on Sunday raised the alert status over Bulusan Volcano in Sorsogon province to Alert Level 1 after a 17-minute phreatic eruption was recorded by seismic and infrasound monitoring.
In an advisory, Phivolcs said a phreatic eruption occurred at the Bulusan Volcano at 10:37 a.m. on Sunday.
"Alert Level 1 status is now raised over Bulusan Volcano, which means that it is currently in an abnormal condition," Phivolcs said.
The Phivolcs said the phreatic eruption was poorly visible through cloud cover over the edifice although a steam-rich grey plume at least 1 kilometer tall was observed from Juban, Sorsogon and was subsequently observed to drift west.
"Ashfall has been reported in Juban and Casiguran, Sorsogon. Prior to the eruption, the BVN [Bulusan Volcano Network] recorded 77 volcanic earthquakes in the past 24-hour observation period," Phivolcs said.
Phivolcs reminded local government units (LGUs) and the public that entry into the 4-kilometer radius Permanent Danger Zone must be strictly prohibited and that vigilance in the 2-kilometer Extended Danger Zone on the southeast sector must be exercised due to the increased possibilities of sudden and hazardous phreatic eruptions.
It also urged civil aviation authorities to advise pilots to avoid flying close to the volcano's summit as ash from any sudden phreatic eruption can be hazardous to aircraft.
Phivolcs likewise enjoined people living within valleys and along river/stream channels especially on the southeast, southwest and northwest sector of the edifice to be vigilant against sediment-laden stream flows and lahars in the event of heavy and prolonged rainfall should phreatic eruption occur.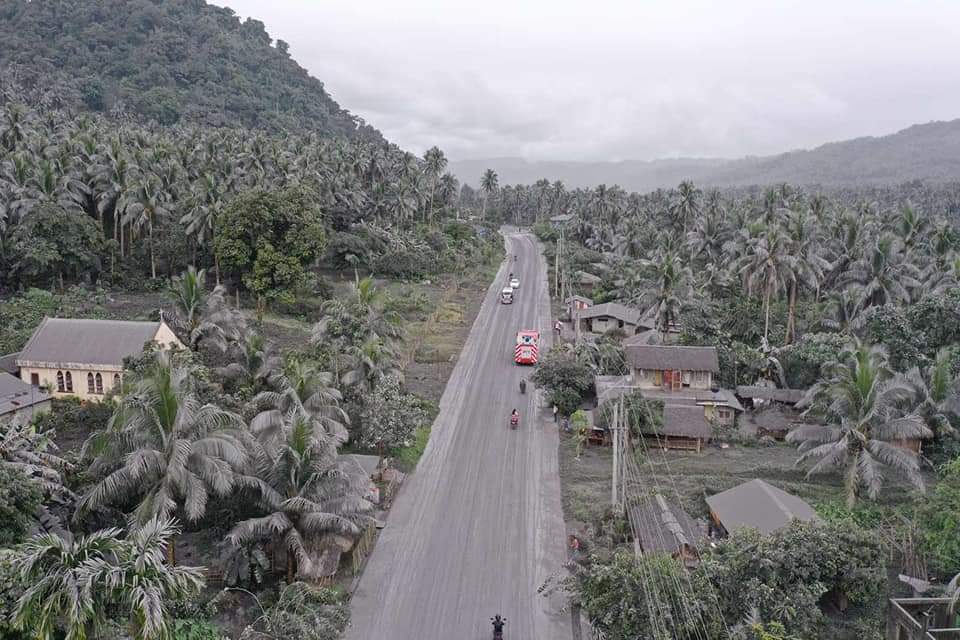 Phivolcs records indicate that Bulusan's last eruption was in 2017.
The agency is closely monitoring Bulusan Volcano's condition and vowed to communicate any new development to all concerned stakeholders.
In a separate statement, Malacañang assured that concerned agencies are on standby 24/7 after Alert Level 1 has been raised.

Acting presidential spokesperson Martin Andanar reminded the public, particularly the residents of surrounding areas, to be vigilant, monitor any development regarding the volcano's condition and cooperate with local authorities.
Health risks
Meanwhile, the Department of Health-Bicol (DOH-5) also issued an advisory to warn the public against the health hazards caused by ashfall.
DOH-5 said the effects of the ashfall range from irritation of the eyes, nose, and throat; coughing; bronchitis-like illness; discomfort while breathing; skin irritation; and minor skin problems.
Aside from such health risks, ashfall may also result in accidents such as collapsed roofs or vehicular crashes caused by slippery roads.
"To mitigate these health risks and accidents, the public is advised to avoid going out of their homes and to close all windows and doors; hang damp curtains on windows and doors to avoid the entry of ash; use a dust mask or a cover for nose and mouth; use eye protection such as goggles; place pets and other animals in safe locations; clean fallen ash from the roof to avoid collapse; be updated on the latest situation before traveling; and obey all traffic laws," DOH-5 stated.
The Office of Civil Defense-Bicol (OCD-5) also confirmed the safety of all 14 hikers and four guides who climbed the volcano.
OCD-5 spokesperson Gremil Alexis Naz said they are still waiting for other official situation reports from the Sorsogon Provincial Disaster Risk Reduction and Management Office.
"Local government units in Sorsogon are currently conducting assessment and information gathering," he said in an interview. (With reports from Samuel Toledo/PNA)