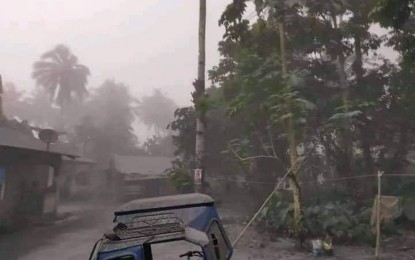 MANILA – The Philippine National Police (PNP) on Monday ordered the immediate mobilization of police units to assist residents in Sorsogon and nearby areas following Sunday's phreatic eruption of the Bulusan Volcano.
In a statement, Maj. Gen. Valeriano de Leon, PNP director for operations, said these units were also ordered to secure business establishments against possible looting incidents.
"PNP OIC (officer-in-charge) Lt. Gen. Vicente Danao Jr. instructed RD (Regional Director) PRO5 (Police Regional Office 5) to coordinate with the concerned local government units to determine the assistance that our local police units could extend to ensure the safety of the affected local residents," De Leon said.
The Philippine Institute of Volcanology and Seismology (Phivolcs) has already hoisted Alert Level 1 over Bulusan Volcano after it spewed a thick plume at around 10:30 a.m. Sunday, causing ashfalls in some areas in Sorsogon and Albay.
He added that there are still a number of families living in danger zones and their priority now is to evacuate these individuals in the soonest possible time to safe areas.
De Leon also said unit commanders in Albay and Sorsogon were also instructed to make available the needed vehicles and transportation assets for the evacuation of residents.
He added that unit commanders were also ordered to help secure the evacuation centers where the residents would be taken.
The PRO-5 was also tasked to constantly communicate with local government units and local offices of the Office of Civil Defense (OCD) in order to determine the assistance that local residents need, including food, medicine, and other basic needs, he added.
As this developed, the National Disaster Risk Reduction and Management Council (NDRRMC) is closely monitoring the situation after a phreatic eruption of the Bulusan Volcano which caused ashfalls in Juban and Casiguran in Sorsogon.
In a memorandum order, the NDRRMC tasked the Bicol Regional DRRMC to ensure the prohibition of entry into the 4-kilometer radius permanent danger zone (PDZ) and exercise vigilance in the 2-kilometer extended danger zone (EDZ) due to the increased possibilities of sudden and hazardous phreatic eruptions; as well as ensure compliance of the local government units, especially the high-risk barangays, on the dissemination of advisories from the authorities regarding the management of ashfall and other volcanic hazards.
The NDRRMC also directed the Bicol RDRRMC to preposition teams and resources to support the affected LGUs should the need arise and prepare for possible alert escalation.
Meanwhile, the OCD, NDRRMC, Bicol RDRRMC, and the Phivolcs continue to coordinate with the local government units and disaster managers for any developments.
Advisories, emergency text alerts and local announcements are being released continuously to remind the public of the preparedness and response measures. (with Priam F. Nepomuceno/PNA)