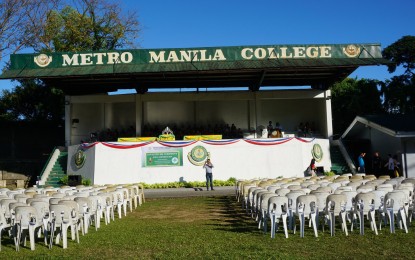 MANILA – The Metro Manila College (MMC), the pioneer tertiary educational institution in Novaliches, Quezon City and Caloocan City, is highlighting the celebration of its 75th anniversary this year with the presentation of awards to its alumni "with outstanding achievements and services to humanity."
A search for such alumni is now underway, according to Dr. Evelyne M. Dominguez, president of the Gawad Metronian Educational Foundation Inc. (GMEFI) which was organized in 2014 "to provide the deprived youth and members of the marginalized sectors the right to education."
She said the MMC alumni, through the MMC Novaliches Academy General Alumni Association, are invited to nominate possible recipients of the awards during the culminating ceremonies scheduled on March 1, 2023.
Nominations will be accepted until Oct. 30, 2022.
Gold Delta Charlie, one of the Metronian Alumni Tracers, said the nominees for "the distinguished alumni must have shown excellence in their field of endeavor and brought honor to Metro Manila College."
From Novaliches Academy to MMC
In an interview, Dominguez traced the beginning of the MMC, which was founded as the Novaliches Academy in 1947 by her parents, Dr. Mamerto S. Miranda and Dr. Ligaya M. Miranda.

She said after the World War II in 1945, her father, a United States Armed Forces in the Far East (USAFFE) veteran who survived the infamous 1942 Bataan Death March, observed that parents in Novaliches could not send their children to secondary schools in distant Caloocan town and Manila because of poverty. There was no secondary school in Novaliches at that time.
Miranda knew that the only way to give the children hope and a better future was through education, so he founded the Novaliches Academy in March 1947. Originally located at the old Plaza Novaliches-Bayan, it started with just 14 students.
As years went by and the number of students increased, it began to offer tertiary courses and the name Novaliches Academy was changed to Metro Manila College in 1977. It thus became the first private school in Novaliches to offer college courses, in addition to pre-school, elementary, junior and senior high schools at present.
The school later transferred to a more spacious campus within a vast and thick foliage of trees covering an area of three-and-a-half hectares in Barangay Kaligayahan, Novaliches.
It is in that campus where a centennial duhat tree, renamed as "Katipunan Tree" in 1980 to perpetuate the memory of the Katipunan of Andres Bonifacio and the revolutionary heroine Melchora Aquino, better known as "Tandang Sora," is located.
As part of its corporate social responsibility (CSR), the MMC has partnered with other educational institutions and non-governmental organizations in the National Capital Region that are catering to the needs and welfare of persons with disabilities and the indigenous peoples, including the Dumagat tribes in the mountain areas of nearby San Jose del Monte City in Bulacan. (PNA)