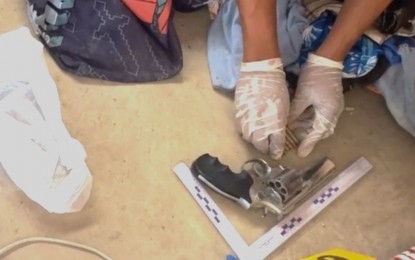 CEBU CITY – A suspected drug personality who allegedly killed an anti-drug intelligence cop in Cebu's northern town of Consolacion was slain Monday during a hot pursuit operation.
Col. Mark Gifter Sucalit, Cebu Provincial Police Office deputy director for operations, said Reynaldo Ydil alias "Tatski", 42, was killed during a follow-up operation at a secluded area in Sitio Tarcom, Barangay Lahug, this city.
Sucalit said the armed encounter occurred just a few hours after Ydil allegedly killed Staff Sgt. Careby Clyde Alinsug of the Consolacion Police Station's Drug Enforcement Unit.
He said Alinsug was an intelligence cop who, along with a civilian informant, conducted a surveillance operation after receiving a report that a drug peddler was in the vicinity of Barangay Casili in Consolacion.
"This operation came up as a follow-up operation between the concerned police station, the Consolacion police station, the City Intelligence Unit of Mandaue City Police Office, and the Cebu Provincial Police Office due to the killing of a police operative," Sucalit told reporters.
He said had the suspect yielded to authorities when asked to surrender, he would not have been killed.
The suspect was positively identified by the informant who was with Alinsug when both the cop and the suspect figured in an armed encounter. However, Alinsug got hit in his abdomen and right chest which led to his death.
Two individuals -- an 18-year-old woman who is reportedly the suspect's live-in-partner and a man who provided him with a get-away motorcycle -- were held for further questioning.
Consolacion Mayor Johannes Alegado described Alinsug as a "hero".
"I lost a very good man. His untimely demise brings so much grief and sadness. My snappiest salute to this man for he died while doing his work in protecting the community from criminal elements. My heart goes out to the bereaved family," Alegado said in a statement posted on social media.
The mayor cited Alinsug's commitment to eradicating illegal drugs in the town, saying "you have truly shown bravery, and thank you so much for your service filled with love and dedication".
The municipal government, he said, will extend financial assistance to the family of the slain cop. (PNA)