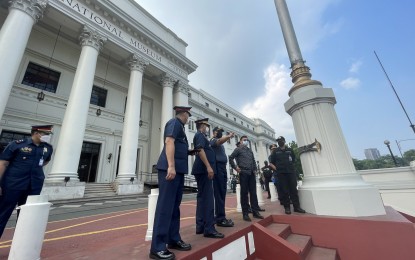 MANILA – Around 2,000 Metro Manila police officers will be deployed to secure the inauguration of President-elect Ferdinand "Bongbong" Marcos Jr. at the National Museum of the Philippines on June 30, a police official said Monday.
Philippine National Police (PNP) director for operations, Maj. Gen. Valeriano de Leon personally inspected the museum as part of security preparations for the event.
De Leon said PNP officer in charge Lt. Gen. Vicente Danao Jr. emphasized the need for early preparations to anticipate all the possible scenarios that could affect the peaceful and orderly Marcos oath taking.
"Our personnel from Regions 3 and 4 will only be utilized to ensure that there will be no movements, especially those that are left-leaning organizations taking advantage of this activity," de Leon said
He said they are also coordinating with the Manila City government and nearby local government units (LGUs) for the "no permit, no rally" policy.
De Leon said the same level of preparation is also being done for the inauguration of Vice President-elect Sara Duterte in Davao City on June 19.
"We will probably be around just to supervise but in terms of strength or forces to be augmented from the national headquarters will be not considered at the moment but we will be providing everything from traffic to intelligence to the presence of our forces," de Leon added.
He said they have yet to get any report of any possible disruptions during the inauguration of Duterte-Carpio on June 19, amid the recent bombing incidents in Mindanao. (with Priam Nepomuceno/PNA)