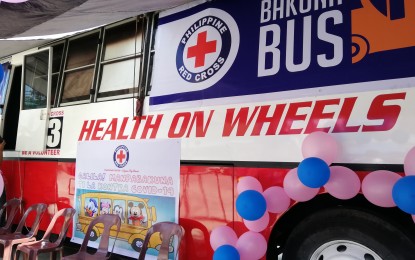 DAGUPAN CITY – The Bakuna Bus of the Philippine Red Cross (PRC) is now in this city to cater to the coronavirus disease 2019 (Covid-19) vaccination of 5 to 11-year-old children in schools following its launching on Monday.
The air-conditioned bus will serve as a mobile vaccination area that could accommodate over 1,000 individuals daily in the different schools in the city for 10 days to boost the vaccination rate among children here.
In an interview, PRC Pangasinan officer-in-charge Rex Vincent Escaño said after its launching, the Department of Education will set the schedules for the different schools in the city.
"We will also accommodate adults but in a separate area. For example, if the parent of the child for vaccination would also like to have their booster shot, then, we will accommodate them but separate from where the children are being immunized," he said.
Escaño said even those outside Dagupan City are welcome to avail of the Bakuna Bus service.
"We target to inoculate all the unvaccinated 5 to 11-year-old children in the city within 10 days. If after 10 days they would still request for extension or if some other areas in Pangasinan would request, then we would go there," he added.
Escaño said the bus expenses are shouldered by Coca-Cola Philippines while the manpower is provided by the Department of Health (DOH), PRC, and the City Health Office.
The children were also given educational kits after they got their vaccine.
In a separate interview, DOH Ilocos regional director Dr. Paula Paz Sydiongco said the Bakuna Bus is a "huge help" for the accessibility of health workers to the children.
She said the vaccination rate in the 5 to 11 years old age group is still at 20 percent, whereas the coverage for the fully immunized adults in the region is now at 84 percent.
"Inoculation against Covid-19 is very important. Although we are now down to two cases per day in the region, it is still not safe and the virus is still out there. If another variant would enter the region then, there might be another surge in cases," she added.
Over 19,000 children in this city are still unvaccinated.
Meanwhile, Allen Evangelista, a mother from Calasiao town, Pangasinan, said she chose to have her daughter with autism get vaccinated to protect her against the virus.
"She is afraid of (going to) hospitals so it is very difficult for her if she gets sick. She already got her first dose and now she got her second dose for her protection," she said. (PNA)