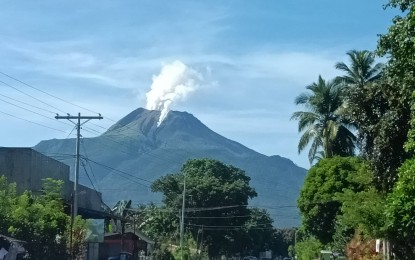 LEGAZPI CITY – Bulusan Volcano's eruption has so far affected 2,683.40 hectares of agricultural land, resulting in production loss and damages amounting to PHP20.2 million, the Office of Civil Defense-Bicol (OCD-5) reported on Monday.
Citing reports from the Department of Agriculture's (DA) Region 5 office, Jessar Adornado, OCD-5 assistant regional director, said in an interview that losses consisting of 824.16 metric tons (MT) of crops and other damages were recorded in three municipalities of Sorsogon, namely Casiguran, Juban, and Irosin.
"DA-5 is closely monitoring and coordinating with the provincial disaster risk reduction management of Sorsogon and other affected municipalities. They also reported that the regional dairy production and technology center in Sorsogon City was initially designated as a primary livestock evacuation center," Adornado said.
Asked about the interventions that the OCD is preparing, he said the OCD-5 and the regional disaster risk reduction management council are currently on blue alert or standby for the deployment of the necessary assets.
"For now Bulusan Volcano is Alert Level 1. If the status is escalated to Alert Level 2 or Alert Level 3, all assets of concerned agencies will be disposed to help the Sorsogon province, particularly the affected local government units, and if Philippine Institute of Volcanology and Seismology (Phivolcs) will request, we will conduct an aerial assessment of the Bulusan Volcano," Adornado said.
A total of 2,784 families or 13,920 individuals were affected by ashfall and pungent odor from the phreatic eruption of Bulusan Volcano in the municipalities of Juban and Irosin, while 75 families or 278 individuals were transferred to the Tughan evacuation center in Juban town.
"As to the situation of the Bulusan Volcano, a recent ground deformation survey shows that the edifice of Mt. Bulusan is still inflated. Sudden steam-driven or phreatic eruptions are still possible," Adornado said.
He added that entry into the 4-kilometer radius Permanent Danger Zone (PDZ) and entry without vigilance into the Extended Danger Zone (EDZ) are not allowed as well as flying any aircraft close to the volcano.
"Classes in four barangays, namely Bacolod, Anog, Buraburan, and Puting-Sapa heavily affected by ashfall in Juban were also suspended," he said.
While there were reported ashfalls on the main roads of Irosin and Juban, all roads are passable.
"The Bureau of Fire Protection conducted ashfall clearing for the safety of the motorists," Adornado added.
After the phreatic eruption of Mt. Bulusan on Sunday, Phivolcs recorded 29 volcanic quakes for the past 24 hours.
The eruption lasted for 17 minutes and created a 150-meter-tall plume with voluminous emission that drifted in a northwest direction. (PNA)