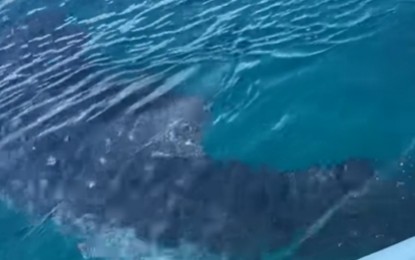 CEBU CITY – They are not endemic in the Mactan Island waters but two whale sharks showed up in the seawater off Barangay Punta Engaño in Lapu-Lapu City, Mayor Junard Chan said on Monday.
Chan said the appearance of the two giants, locally called "butanding", amazed a group of people who actually saw and video-recorded them while their motorboat passed by the area on Saturday.
He pledged to implement measures to protect the sea creatures and to "make our oceans a safe home" for them.
"Ang nagpadala niining video kay si Ricky Blesario nga nakasaksi gayud sa kaanindot niining maanyag nga mga mananap nga gawasnong naglangoylangoy sa dagat. (The sender of this video is Ricky Blesario who actually witnessed the beauty of these beautiful animals swimming freely in the sea)," Chan said in a social media post.
In a separate social media post on Saturday, Blesario said: "After vertical jigging session, personal encounter with these two friendly beautiful big whale sharks at Punta Enganio Lapu Lapu near Artera.. Beautiful creation by God''.
Although "butanding" are commonly found in Cebu's southern town of Oslob -- particularly in Barangay Tan-awan where hundreds of local and foreign tourists visit for whale shark-watching activities -- it was only the second time that the people in Lapu-Lapu got to see the gentle giants.
In June 2021, a whale shark was trapped in a fisherman's net in the seawaters of Barangay Maribago.
A diver, Boyla Gilig, reported then that it was feeding in the area when it was accidentally trapped.
Since then, divers have been coordinating with the local fishery office and agreed to help protect the butanding.
Chan said the City Agriculture and Fishery Office will do a study to identify those areas that could be a safe haven for the whale sharks where they can freely swim without interference from the village folks.
"We need to protect them so they can live peacefully," he added. (PNA)