MANILA – The Land Transportation Office (LTO) has identified and summoned the owner of a sports utility vehicle (SUV) involved in the hit-and-run of a traffic enforcer in Mandaluyong City on Sunday.
In a show-cause order issued on Monday, LTO Intelligence and Investigation Division (IID) officer-in-charge Renante Melitante ordered the vehicle owner and the "assigned driver" to appear at the LTO IID in East Avenue, Quezon City on Tuesday.
"The assigned driver is further directed to submit a written comment/explanation thereon to show cause why he should not be administratively charged for Reckless Driving (Sec. 48 of RA 4136), Duty of driver in case of accident (Sec. 55 of RA 4136) and why his driver's license should not be suspended or revoked in connection with the incident stated above," the order read.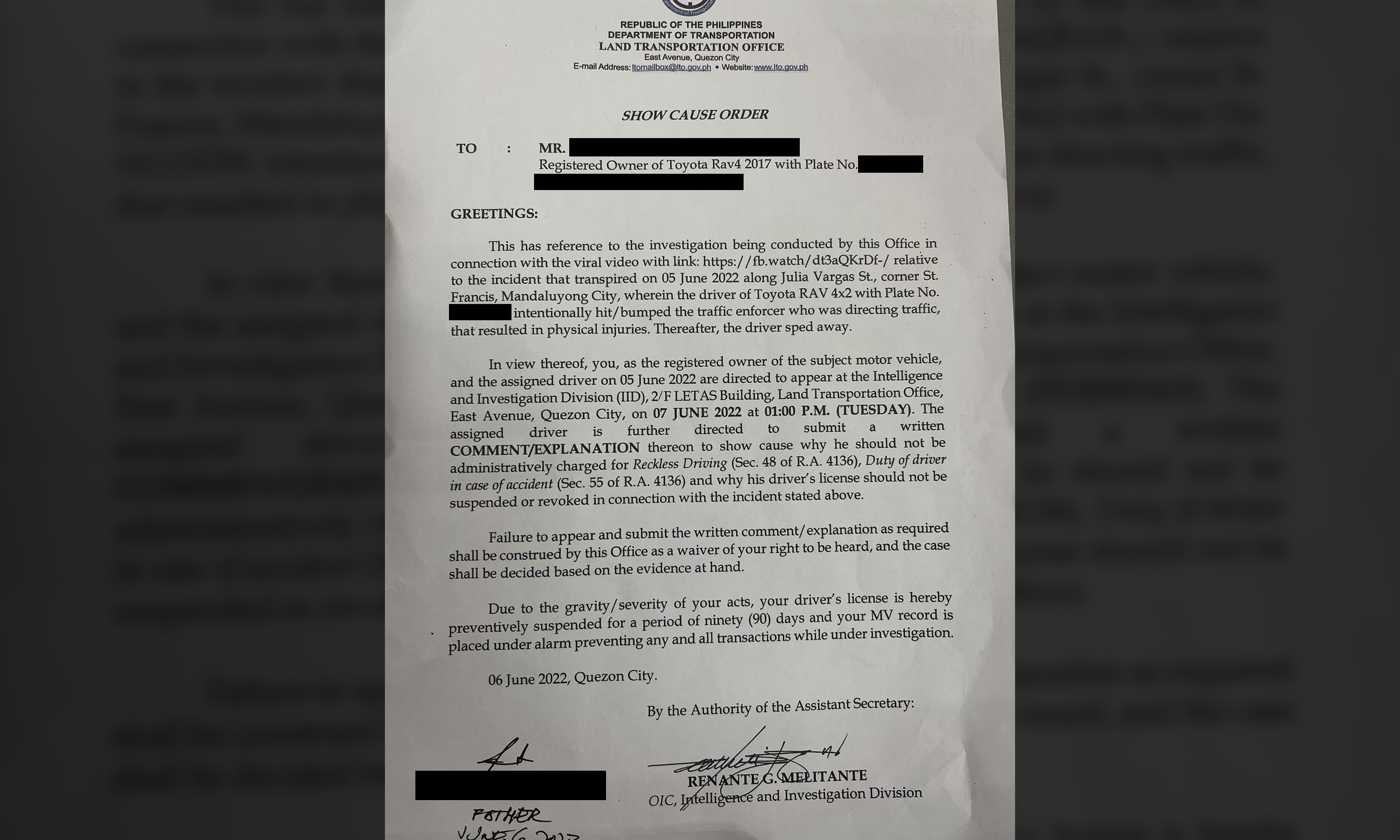 In a now-viral dashcam footage shared by another motorist, a white Toyota RAV4 was signaled to stop at the corner of Julia Vargas Avenue and St. Francis Street but instead, the driver bumped the guard who immediately fell and ran over the victim before fleeing the scene.
Due to the severity of the incident, the owner's driver's license has been placed under a 90-day preventive suspension and their motor vehicle record placed under alarm to prevent "any and all transactions while under investigation."
"Failure to appear and submit the written comment/explanation as required shall be construed by this Office as a waiver of your right to be heard, and the case shall be decided based on the evidence at hand," the order read.
The LTO requested the identity of the vehicle owner be kept in confidence.
Based on the signed copy of the document, the father of the vehicle owner has received the show cause order.
Surrender seen
Meanwhile, the Philippine National Police (PNP) said the owner of the vehicle has sent surrender feelers.
PNP director for operations Maj. Gen. Valeriano de Leon said the lawyer of the vehicle owner had already coordinated with them with regard to the surrender.
"Feeler pa lang ito. Tinitingnan nila siguro makakabuti sa magkabilang panig at sinisiguro naman natin dahil natunton naman natin kung sino itong may-ari ng saskayan at kung saan ito nakatira kaya it is likely that the soonest possible time they will appear sa police station. (This is just a feeler. Perhaps they are looking what will be good for both sides since the owner was identified as well as the residence. That is why it is likely that the soonest possible time, they will appear at the police station)," de Leon told reporters.
De Leon said the owner may face initial charges of reckless imprudence resulting in physical injury.
Mandaluyong City police chief Col. Gauvin Unos identified the victim as Christian Floralde, who was assigned at the intersection of J. Vargas Ave. corner St. Francis St. in Barangay Wack-Wack, Mandaluyong City on Sunday.
Unos said the victim "sustained abrasion on his left occipital (back of the head) area of the head and complained of difficulty of breathing." (PNA)