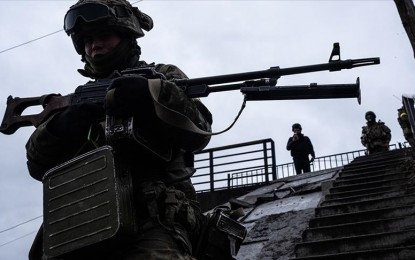 ANKARA – Russian Major General Roman Kutuzov was killed in fighting in eastern Ukraine, local media reported Sunday.
Kutuzov died during a battle in the village of Nikolaevka in the Luhansk region, reports said, citing a post by Russian state television correspondent Alexander Sladkov on Telegram.
Later, the Military Informant Telegram channel confirmed the killing of the general.
According to UN estimates, at least 4,183 civilians have been killed and 5,014 injured in Ukraine since the war began with Russia, with the true toll believed to be much higher.
More than 6.9 million people have fled to other countries, while more than 7.7 million have been internally displaced, according to the UN refugee agency.
Long-range missiles
Meanwhile, Britain plans to send Ukraine long-range missiles for the first time, the country's defense secretary said on Monday.
Ben Wallace said the UK would take a leading role in supplying the Ukrainian army with the "vital weapons they need to defend their country from unprovoked invasion," referring to Russia's war on the country.
"As Russia's tactics change, so must our support to Ukraine," Wallace added.
"These highly capable multiple-launch rocket systems will enable our Ukrainian friends to better protect themselves against the brutal use of long-range artillery, which Putin's forces have used indiscriminately to flatten cities."
Wallace's remarks came as Russian President Vladimir Putin vowed that Moscow would hit more targets in Ukraine if the West delivered more weapons.
"If it now comes to rockets and they are supplied, we will draw conclusions from that and employ our weapons that we have in sufficient quantities to strike those facilities that we are not attacking so far," Putin said in an interview with the Rossiya-1 TV Channel.
Earlier this week, US President Joe Biden announced USD700 million in additional security assistance to Ukraine.
The US-made M270 multiple-launch rocket system can fire 12 surface-to-surface missiles per minute to strike targets in an 80 kilometer (roughly 50 miles) radius. (Anadolu)