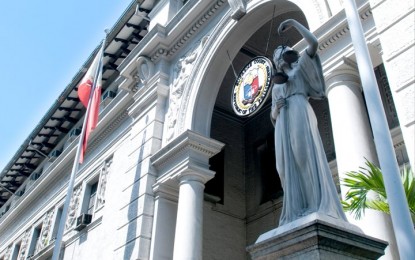 MANILA – The Supreme Court (SC) has affirmed the conviction by the Sandiganbayan of a former vice mayor in Iloilo province for graft and falsification in connection with a spurious council resolution passed in 1996 to authorize quarrying.
The SC's Second Division dismissed the appeal filed by ex-Maasin vice mayor Arnaldo Partisala who was charged in 1999 for making it appear that a municipal resolution was passed to authorize private individual Helen Lee Tan's firm to engage in massive quarrying in the guise of rechanneling the Tigum River.
Also sued were former mayor Rene Mondejar; Sangguniang Bayan secretary Francisco Tolentino; and Sanggunian members Ildefonso Espejo, Margarita Gumapas, Manuel Piolo, Roberto Velasco.
Residents of Barangay Mabini-Rizal sued them over the destruction of the river due to quarrying activities in Barangay Naslo.
In 1997, the provincial government said Maasin violated ordinances by quarrying without the necessary permit from the governor.
Tan was acquitted in 2016 for the failure of the prosecution to prove conspiracy beyond reasonable doubt.
Partisala was meted out a sentence of up to eight years imprisonment and a fine of PHP5,000.
He previously failed to appear during arraignment and was later apprehended, allowing the Sandiganbayan to resume the trial.
The other co-accused were sentenced by the Sandiganbayan to up to 10 years in prison.
In upholding Partisala's conviction on June 2, the high court "considers as conclusive the factual findings of the Sandiganbayan as it had the better opportunity to examine and evaluate the evidence presented before it". (PNA)