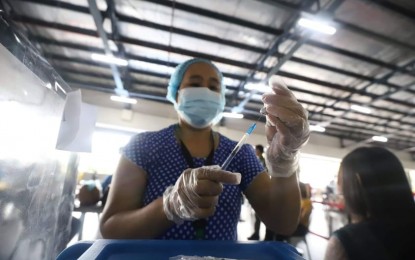 ILOILO CITY – The city government here is calling on its fully vaccinated population to get booster shots as thousands doses of coronavirus disease 2019 (Covid-19) vaccines have expired or are about to expire due to few takers.
In a press conference on Monday, Mayor Jerry Treñas said while the city has the most persons who got the booster shots, it is only about 38.69 percent or 150,789 of the target eligible population.
It recorded a 129.92-percent accomplishment or equivalent to 527, 331 got the first dose, and 127-percent accomplishment or 494,957 for the fully vaccinated out of the 389,719 target eligible population.
"Among all the other LGUs (local government units), we are the most successful because we have the highest booster rate, although it is still low," he said.
The Department of Health allows the administration of the first Covid-19 booster dose for individuals 18 years old and above, while the second booster is already available for senior citizens, immunocompromised, and frontline health care workers.
Treñas said the city government has even made booster doses accessible to the public by bringing them to the district health centers in Molo, Mandurriao, Jaro and city proper.
"You just go there and get the vaccine of your choice. But you know this is not happening only here, this is a universal thing," he added.
The city government will no longer open its mega vaccination sites at malls and universities since there were also few takers of vaccines from those sites, as high as 400 per day from the previous 2,000 for every site.
Treñas said they are also mulling providing incentives since the city would want to give more protection.
Meanwhile, he said the national Inter-Agency Task Force for the Management of Emerging Infectious Diseases will be replacing the city's expired and soon to expire Covid-19 vaccines for the continuous rollout of the program in this highly urbanized city.
The city's 31,900 doses of Moderna will expire on June 7 while the 3,936 doses of Pfizer will expire on June 20.
Some 15,000 doses of Pfizer expired last month. (PNA)