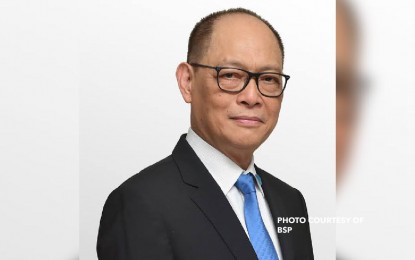 MANILA – Citing the improvements in the financial market in the last three decades, Bangko Sentral ng Pilipinas (BSP) Governor Benjamin Diokno has underscored the need to be prepared against the risks that come with these changes.
During the launch of the systemic risk crisis management (SRCM) framework on Monday, Diokno said technology has provided financial services firms greater access to their markets and vice versa but this also opened more channels for various spillovers.
He said preparing for any eventualities is thus important since crises come during unexpected times and "create significant disruptions as they unfold.
Diokno said "someone will always bear the costs of the least disruptions, and invariably it is the public."
He highlighted the need to look ahead, such as during this time when the economy is recovering from another crisis, and recognize lessons during the recent hardships "while anticipating the possibilities of the future."
This, Diokno said, is the goal of the Financial Stability Coordination Council (FSCC) when it came up with the SRCM framework.
"Financial stability, after all, is about systemic risks and the continuous task is to enhance the resilience of the financial system. Stability is therefore simply about risks and resilience –ensuring the latter by both avoiding shocks to the system, as well as strengthening the ability to recover once those shocks occur," he said.
Diokno said the SRCM aims to help stakeholders manage systemic risks and strengthen the resilience of the system.
"It defines arrangements among the FSCC agencies that we will rely on in good times so that we are best organized under stressed conditions," he added.
Diokno said that "while financial stability is not about a forecast of the future, it is nonetheless all about considering all reasonable likely outcomes."
"While it is virtually impossible to forecast the next crisis, its timing and its specific nature, this should not stop us from being prepared," he said.
Diokno said enabling stakeholders to be highly aware of the overall situation will help them make well-informed choices.
"All these challenges simply mean that systemic risk crisis management, and invariably financial stability at large, is a collective effort," he said.
Diokno further said providing people with all the things they need to know about the financial system will minimize surprises, such as what happens when a crisis hits.
"We want systemic risk communication to be helpful and not to be a source of undue panic. These sensitivities to risk can be developed by frequent and responsible communication between and among stakeholders," he added. (PNA)