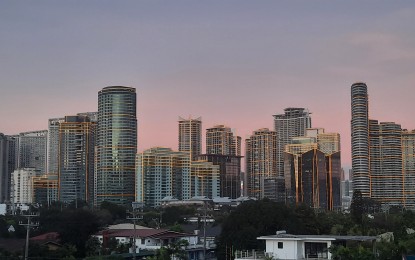 MANILA – A lawmaker on Monday said the country's debt-to-gross domestic product (GDP) level is expected to decline every year from 2023, as long as the fiscal conditions do not deteriorate.
Albay Rep. Joey Salceda said the country's debt-to-GDP ratio at 61 percent is high but manageable, especially if the GDP growth significantly outpaces debt growth.
"What should matter is whether our debt is growing faster than the size of our economy. Because if we are significantly outpacing debt growth, it means we are spending our borrowings right -- and we can pay our debts well," he told reporters in a message. "So, as long as we can keep this level going down, and make enough fiscal space for surprise events, we wouldn't be in deep trouble."
He said the government should create more fiscal space of around PHP326 billion annually in order to keep funding the "Build, Build, Build" program, the Universal Health Care program, Free College Education program, Pantawid Pamilyang Pilipino Program (4Ps) and other social and economic services, without funding debt service with more debt.
"I will work with the new economic team to figure that out," he said.
Salceda also came into the defense of Congress after Department of Finance (DOF) chief economist and former undersecretary Gil Beltran claimed that the debt of the national government would have reached PHP15.4 trillion in 2022, higher by PHP2.2 trillion.
Beltran said this is because of revenue-eroding legislative proposals or those requiring new appropriations, had the Duterte administration not exercised fiscal discipline in responding to the Covid-19 pandemic.
Salceda said it is not fair to lump together all revenue-eroding bills or spending bills as if Congress would have enacted all of them without deliberation.
He said the House Committee on Ways and Means, which he chaired in the 18th Congress, routinely removes tax exemptions and extra tax incentives in proposed bills and instead aligns them with the tax code.
The House Committee on Appropriations, also routinely deletes special appropriations from revenue-negative bills, he added.
"We have partnered with the DOF on the entire tax reform program as well as its economic recovery plan. Every single comment that the DOF submits to the House tax committee is listened to, and if we do not adopt their recommendation, at the very least we try to compromise. So, I hope we can avoid aimless finger-pointing. The challenge now is to outgrow the debt, and we need to work together," he said.
Beltran, in a statement, said the government has consistently exercised fiscal prudence in responding to the Covid-19 pandemic.
"We spent what we had to, but not more than what we could afford. In fact, had we acquiesced to pressure for us to spend more, our debt would have increased by PHP2.2 trillion more and reached PHP15.4 trillion," Beltran said.
He added that the government's pandemic response strategically targeted the most vulnerable sectors. (PNA)