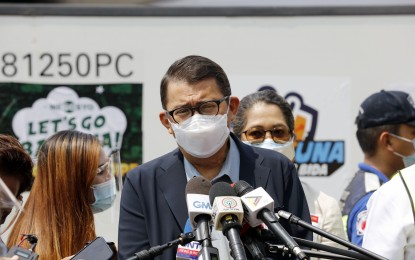 MANILA – Presidential Adviser for Entrepreneurship Joey Concepcion has proposed to start the process of application for certificate of product registration (CPR) for coronavirus disease 2019 (Covid-19) vaccines as the country will move to the lifting of the state of public health emergency.
During the Laging Handa public briefing Monday, Concepcion said the emergency use authorization (EUA) for Covid-19 vaccines will no longer be valid when the public health emergency status will be lifted.
He said vaccine manufacturers need to secure CPR to continue the rollout of Covid-19 vaccines.
"(W)hat we want to do is that if eventually, the public will buy their own vaccines, the vaccine manufacturers will have to apply for CPR 'no, so this is certificate of product registration," he added. "That's why, the vaccine manufacturers should apply for their CPR and that is very important."
Concepcion said starting the process of CPR application even if the country is still under a public health emergency due to Covid-19 will avoid gaps in bringing in vaccines in the future.
This, as the process usually takes three to four months before the Food and Drug Administration (FDA) gives CPR to the pharmaceutical firms.
"But if we don't start talking about it and the vaccine companies don't apply for the CPR or the delays with FDA in approving their CPRs, then all of these things will be delayed," he said.
Concepcion said AstraZeneca, the Covid-19 vaccine supplier for the private sector, has expressed its interest to apply for CPR.
Earlier, Concepcion proposed to lift the public health emergency in the country amid Covid-19 after the Centers for Disease Control and Prevention (CDC) classified the Philippines as a low-risk country.
"We have to plan, eventually this state of public health emergency should be removed; it cannot be there forever. And the way I see it, the Philippines is in that spot that is ready for this removal. And alert levels need not rise beyond Alert Level 1 anymore, the way I see it, and we cannot afford to bring it up," he said.
He added it might be the next administration that would decide on the lifting of the state of public health emergency. (PNA)