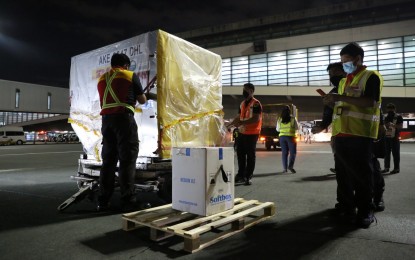 MANILA – The Philippines' ranking of No. 33 out of 121 nations in Nikkei Asia's Recovery Index report for May 2022 is a clear indication that the country is moving toward pandemic recovery and Filipinos adhere to minimum public health standards, Secretary Carlito Galvez Jr., National Task Force Against Covid-19 chief implementer, said on Monday.
In a statement, Galvez reported the ranking is based on infection management, vaccine rollout, and social mobility.
The country was at the bottom half in September 2021.
In the latest report, the Philippines outranked several developed countries, including Italy (34), Switzerland (38), Israel (44), Japan (53), United Kingdom (58), Canada (60), Australia (71), New Zealand (75), Singapore (79), United States (89), China (93), and Russia (111).
Qatar, Cambodia, and the United Arab Emirates occupied the top three spots while Rwanda and Kuwait tied for fourth and fight places.
Vietnam was the best-performing Southeast Asian nation, sharing 14th to 17th places with Liechtenstein, the Netherlands, and Mauritius.
"The Philippines' current position in the Nikkei Asia's Recovery Index report for May 2022 is a clear indication that the Philippines has found its footing and is now on the path towards recovering from the pandemic," Galvez said.
The Nikkei Recovery Index report showed the Philippines moved up 40 spots due to a consistent decrease in daily Covid-19 cases, averaging below 200 with low to no fatalities in recent weeks.
The report recognized the country's easing of restrictions for fully vaccinated international tourists since February and the last weeks' removal of the negative reverse transcription-polymerase chain reaction requirement for foreigners with booster shots.
Galvez said the easing of restrictions led to the high record number of tourist arrivals over the past few months.
The Philippines' impressive performance in the latest Recovery Index of the Tokyo-based magazine can be attributed to the national government's aggressive efforts to build an "immunity wall'' across the country through the national vaccination program, he added.
"This shows that the Philippines' vaccination program is on the right track, and a testament of the effective implementation of the country's National Action Plan which is anchored on the Prevention-Detection-Isolation-Treatment-Reintegration-Vaccination strategy," Galvez said, attributing the success to the government's science-based policies and data-driven decisions putting that put premium on public health and the economy.
The NTF recognized the hard work and dedication of medical front-liners and volunteers who tirelessly ensured that Filipinos have greater access to testing, treatment and vaccination.
"With this, we reiterate the government's position that wearing of face masks will continue to be enforced at least until the end of the term of President [Rodrigo] Duterte," he said.
Galvez urged all unvaccinated Filipinos to get protected against Covid-19 and avail of booster shots. (PNA)