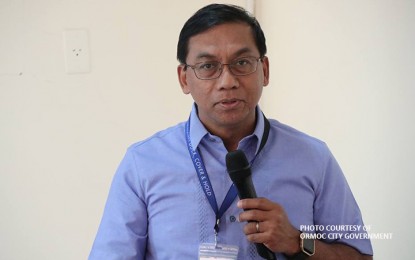 MANILA – The Civil Aviation Authority of the Philippines (CAAP) and the Philippine Institute of Volcanology and Seismology (Phivolcs) on Monday both advised the public to stay away from the Bulusan Volcano in Sorsogon, following its eruption on Sunday.
CAAP said pilots should refrain from passing near the volcano, and should fly 10,000 feet above when passing the area.

"Distance from ground to air space should be 10,000 feet. This covers only (within the) radius of the Bulusan Volcano and not the entire Bicol Region," CAAP spokesperson Eric Apolonio said.

He said CAAP based its notice to airmen (NOTAM) from the alert level that the Phivolcs hoisted over the Bulusan Volcano.
Mount Bulusan has been under Alert Level 1 (low level unrest) since Sunday, after it spewed a thick plume past 10:30 a.m., causing ash falls in some areas of Sorsogon.

"Yesterday, the NOTAM (advised the pilots to fly the aircraft) 18,000 feet from the surface. The safety benchmark of aircraft flying near the volcano has been lowered to 10,000 feet from the surface because the eruption intensity has also decreased," he said.

In a public briefing on Monday, Phivolcs Director Renato Solidum, Jr. said distance from the vicinity of the volcano is necessary, as distance would be the people's defense in case the volcano erupts.

He said Phivolcs has identified the permanent danger zone so that the public will not be affected should there be a phreatic eruption since they have enough distance from the volcano.
Distance would also enable people to evacuate in case volcanic activity escalates.

Like the CAAP, Phivolcs has also advised that flying any aircraft near the Bulusan Volcano should not be allowed.

Solidum said a similar phreatic eruption is still possible in the Bulusan Volcano. Based on past eruptions, he said this may occur after days, weeks or months from the first eruption.
"Thus, the public should adhere to prohibitions in PDZ," he said.
"Phreatic eruptions can occur suddenly, hence (the) public should strictly observe the no entry recommendation on the 4-km radius permanent danger zone (PDZ), and the exercise of caution in the extended danger zone of 2 km in the southeast sector," Solidum added.

He said the signals prior to a phreatic eruption are subtle and "may not be evident to provide enough lead time."
This is unlike for a magmatic eruption where a volume of magma is rising, which could show several signs prior to eruption.

Because phreatic eruption occurs due to shallow hydrothermal activity, Solidum said this makes it a common challenge for the volcanological community globally to determine the signs prior to the phreatic eruption.

He added that both phreatic and magmatic eruptions can be manifested by the active volcanoes in the Philippines.
Typical precursors for volcano monitoring are related to the volcanic earthquakes, ground or surface deformation and volcanic gases or water chemistry, he said.
Meanwhile, in a news release, CAAP reported that no damage due to ash emission has been reported among the seven airports in the Bicol Region. (PNA)