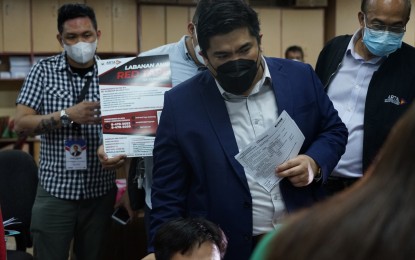 MANILA – Anti-Red Tape Authority (ARTA) Director General Jeremiah Belgica said he will follow the suspension order by the Office of the Ombudsman amid the graft complaints against him and four other ARTA officials filed by a telecommunication company.
Belgica said the six-month suspension order is preventive in nature, and not a decision that the executives are guilty of the graft complaints.
"This is to secure and guard the integrity of all documents so that we cannot influence the investigation," he said in Filipino.
Belgica, along with ARTA Deputy Director General Eduardo Bringas, Division chief Sheryl Pura-Sumagui, and directors Jedrek Ng and Melamy Salvadora-Asperin, filed their counter-affidavit and motion for reconsideration before the Office of the Ombudsman on Monday.
Frequency issue
On March 1, 2021, ARTA issued a Resolution of Automatic Approval that declared the application of NOW Telecom for frequencies 1970 to 1980 megahertz paired with 2160 to 2170 MHz and 3.6 to 3.8 gigahertz is complete and "deemed the same as automatically approved".
Under the Ease of Doing Business (EODB) and Efficient Delivery of Government Services, government offices are directed to approve applications in three days for simple transactions, within seven days for complex transactions, and within 20 days for highly technical transactions. This is the 3-7-20 rule under the EODB law.
According to ARTA, DITO Telecommunity Corp., the new major player (NMP) declared by the National Telecommunications Commission (NTC), alleged that the ARTA resolution "directly affects its rights as the NMP and assignee of such frequencies.
ARTA said its resolution and order for automatic approval "did not rule that NOWTel is the new major player."
"I will just clarify that ARTA does not approve the application. We do not have the authority to grant frequencies or provisional authority. The approval or denial of the application depends on the agency but if it is not acted upon, that is where the application of the law enters. We have no intention of taking any power from the NTC to assign frequency to NOWTel," Belgica said in a media briefing.
However, a ruling of the Office of the Secretary of Justice in 2021, which was affirmed by the Office of the President, provides that the 3-7-20 rule does not cover the assigning or granting of use of radio frequency, as this is quasi-judicial in nature.
"ARTA's action is guided by the 2 March 2020 legal opinion of the Office of the Solicitor General (OSG) stating that it has jurisdiction over quasi-judicial agencies," ARTA said. (PNA)