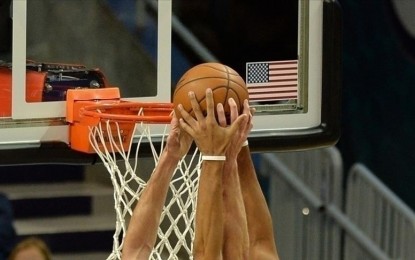 ANKARA – Players and coaches from the Golden State Warriors and Boston Celtics wore orange t-shirts with the slogan "End Gun Violence" to warm-ups ahead of Game 2 of the NBA finals on Sunday.
The teams' head coaches, Steve Kerr and Ime Udoka, wore the shirts to support the Wear Orange campaign and spread awareness about gun violence in the US.
"It's bigger than basketball," the Celtics tweeted on Monday over a photo of both coaches donning the orange shirts, asking people to support the campaign.
"I think we feel very strongly as a league that it's time for people to take notice and to take part in what should be a nationwide effort to limit the gun violence that's out there," Warriors' head coach Kerr said in a statement.
"The idea behind wearing the shirts for both teams is to make people aware that they can contribute to different gun safety, gun violence prevention groups," he explained.
In a separate statement, the Celtics head coach Udoka said: "We play a game that if you win, you're elated and you feel great about it; you lose, you're devastated for the moment but it's not life and death, you still go on.
"The awareness is about things that continue to happen in our communities. They are devastated and their families are devastated and we kind of go on with our normal life and business. Just continue to keep those thoughts in mind and those people are struggling."
A day before the game, Spurs coach Gregg Popovich gave a speech about gun violence in Texas, saying: "I'm sick and tired of 50- and 60- and 70-year-old white men screwing up all or lives because they are selfish and really care about nothing else but their position."
These remarks come on the heels of several mass shootings in the US, with the most recent on Wednesday, when a 45-year-old man killed four people at a hospital in Tulsa, Oklahoma.
The Wear Orange campaign kicked off almost two and a half years after the killing of Hadiya Pendleton on Jan. 29, 2013, when the 15-year-old was shot dead on a playground in Chicago. Pendleton's childhood friends later decided to commemorate her by wearing orange.
The campaign formally began on June 2, 2015, Hadiya's 18th birthday. Wear Orange has since expanded to three days each year, beginning with National Gun Violence Awareness Day on the first Friday in June and continuing into the following weekend. (Anadolu)