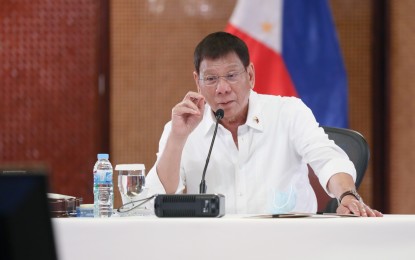 MANILA – The Philippines avoided another surge in Covid-19 cases through continuous Covid-19 vaccinations and adherence to minimum public health standards, outgoing President Rodrigo R. Duterte said Monday.
In a prerecorded public address, Duterte touted anew his administration's success in containing Covid-19 infections and reopening the economy.
"If I were to judge myself, the one single thing that my government did was to contain Covid-19 in a very much earlier span of time. And to think na yung iba sa ngayon nagkaroon ng (other countries are having a) surge simply because maybe the citizens of that country do not want to follow regulations. E tayo dito, sabi ko, takot (But us here, we are afraid)," he said.
Duterte commended Filipinos' compliance with Covid-19 health protocols, adding that this also allowed them to regain confidence to return to work.
"Because we (re)started our economy, yung mga trabahante bumalik na, nakalabas na (workers are able to return to work, leave their homes)," he added.
Meanwhile, he enjoined healthcare workers and vaccinators to "stretch their efforts" and help in identifying Filipinos who have yet to get their Covid-19 jabs.
"Yung hinahanap natin yung itong mga vulnerable o kaya ng may mga edad na na hindi nakakalabas at di pa naiinjeksyunan (What we are looking for are those vulnerable or elderly who cannot leave their homes and have not received their jabs), if we can manage to find them," he said.
He acknowledged that many of them are bone-weary, but appealed to them to "do more" for fellow Filipinos.
"Alam kong pagod na kayo (I know you are tired) but you have to do more for your countrymen. 'Yan lang ang pakiusap ko sa inyo (That is my only request)...This time do it for the country and do it for your countrymen," he added.
The Philippines has so far inoculated more than 69 million people or 77.2 percent of its target population of 90.005 million, while 14.3 million individuals have already received booster shots.
Recent data from the Department of Health showed that a total of 1,295 new infections were logged from May 30 to June 5 with an average of 185 daily cases, 1.4 percent lower than the daily infections logged in the previous week.
Tokyo-based news magazine Nikkei Asia earlier ranked the Philippines at the 33rd spot of its Covid-19 Recovering Index, noting Manila's improving pandemic response.
Gratitude to China
Recalling how the Philippines struggled during the onset of the pandemic, Duterte thanked China anew for providing the country with the first batch of Covid-19 vaccines.

"We started with zero. We were just floating, waiting for the next thing to happen. And maski anong sabihin ng iba and other nations (And whatever other nations say), we would like to reiterate again our gratitude to China," he said.

While other countries were hoarding doses of Covid-19 vaccines, he said China was generous enough to share their vaccines to the Philippines.

"One day, without us really expecting it, China announced that they're shipping to the Philippines vaccines to start the yung panlaban natin (our fight), the war against the Covid-19," he added.

Duterte, in previous speeches, said he personally wants to visit Chinese President Xi Jinping for their government's Covid-19 vaccine donations.

In March 2021, the Philippines kicked off its Covid-19 vaccination drive using China's Sinovac-made "CoronoVac" vaccines. (PNA)