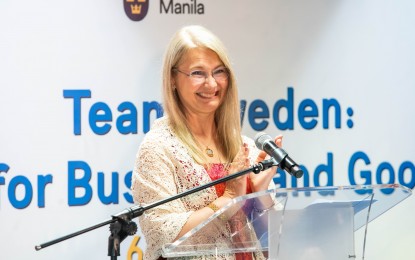 MANILA – The Sweden Embassy in Manila is looking forward to forging close relations with the next administration to "build back better" following the effects brought about by the coronavirus pandemic.
During the Sweden National Day reception on June 6, Swedish Ambassador to Manila Annika Thunborg said that with the pandemic, Russia's war against Ukraine, subsequent socio-economic hardship, and the climate crisis, "it is of great importance that we build back better, greener and more inclusively, not leaving anyone behind and building sustainably and resiliently for future generations."
"I thank the outgoing government for excellent cooperation. And I congratulate the incoming government and look forward to working closely with you including together with the European Union to further this agenda," she added.
Foreign Affairs Assistant Secretary for European Affairs Jaime Victor Ledda, meanwhile, sees the two nations' partnership further growing, particularly in innovation and sustainable business.
"Indeed, Sweden has many, many things to offer as a pioneer in the use of digitalization as part of society, Sweden's innovative smart and green technologies have potentially beneficial gains for the Philippines," he said.
This year marks the 75th anniversary of Sweden-Philippines bilateral relations. To recall, Sweden has only reopened its embassy in Manila in 2016 after closure in 2008.
The recent reestablishment of the Philippine Embassy in Stockholm has also allowed greater exploration of trade and investment opportunities between the two nations.
Thunborg said the number of Swedish companies present in the Philippines has since grown, which includes the ABB, AstraZeneca, Atlas Copco, Ericsson, H&M, Retail Associates, Swedish Match, Tetra Pak, Transcom, Volvo Buses and Volvo Cars, and IKEA.
In the same reception, Thunborg underscored Sweden's support to the Philippines' efforts to promote booster vaccination "as a way to move forward from the lingering effects of the pandemic."
"We embarked on a Covid-19 booster vaccination campaign as it was of concern to us to learn that only 13 percent of the Philippine population had gotten a booster shot despite the easy access to vaccines," she said.
"Team Sweden and the local government units, including Pasay City helped organize vaccination drive in the many Swedish companies that already have corporate vaccination and booster programs for all their employees. No one is safe until everyone is safe and further lockdowns will harm us all," she added. (PNA)